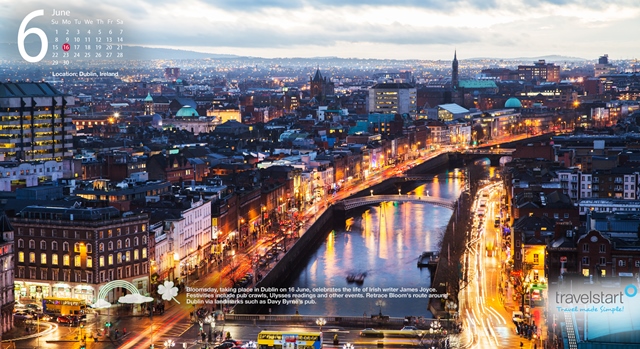 This month's free travel wallpaper features downtown Dublin, Ireland and the location of Bloomsday – an annual event which takes place in the capital from 9 – 16 June.
Bloomsday celebrates the work of Irish author James Joyce, and is named after the main character in his most famous work – Leopold Bloom in Ulysses.
On Bloomsday itself (16 June) diehard Joyce fans will dress in Edwardian costume to conjure up the atmosphere of the period in which Ulysses was set – 1904. To understand Bloomsday you need to know that it follows the events of one entire day in the life of Leopold Bloom in the book Ulysses.
Fans retrace Bloom's route around Dublin, and usually have a breakfast of sausages, beans, black and white pudding and toast at some stage along the way. Davy Byrne's Pub usually features in everyone's Bloomsday celebration at some stage of the day.
The James Joyce Centre on North Great Georges Street have scheduled a week of events, from staples like the traditional Bloomsday Breakfast and walking tours, to brand new theatre, live music, talks and other special events.
Visa
South African passport holders taknig a flight to Dublin, Ireland do not require a Visa.
However, if you're visiting the UK (including Northern Ireland) you will need to get a UK Visa.
UK Visa applications in South Africa are no longer handled by VFS; they are now handled by Teleperformance. Here's a quick 3 step guide for obtaining a UK Visa in South Africa.
First visit the official government website for applying for UK visas, submitting UK visa applications, and booking your appointment at a local VAC (Visa Application Centre).
Then visit the Teleperformance website for SA. Create a profile on the website. You do not need to do anything else, however, if you do want to take optional value added services such as priority visa; this is the website where you will purchase those orders.
Gather your current passport, 2 colour photos as per UK visa guidelines, and all your supporting documents (dependent on the type of visa your are applying for) with copies thereof, and arrive at your nearest VAC as per your scheduled appointment. Teleperformance VAC's are located in Durban, Cape Town, Johannesburg and Port Elizabeth and Pretoria.
Free Wallpaper Downloads for June 2014
Desktop Computers
1366 X 768 – DOWNLOAD (with calendar)
1366 X 768 –  DOWNLOAD (without calendar)
1980 X 1080 –  DOWNLOAD (without calendar)
1980 X 1080 –  DOWNLOAD (with calendar)
Laptops
1440 X 900 –  DOWNLOAD (with calendar)
1440 X 900 –  DOWNLOAD (without calendar)
Tablet Computers
960 X 800 –  DOWNLOAD
Phones
320 X 480 (for iPhone 3/Small Android) –  DOWNLOAD
640 X 960 (for iPhone 4/Regular Android) –  DOWNLOAD
Facebook Cover Photo
851 X 315 –  DOWNLOAD
Related articles across the web