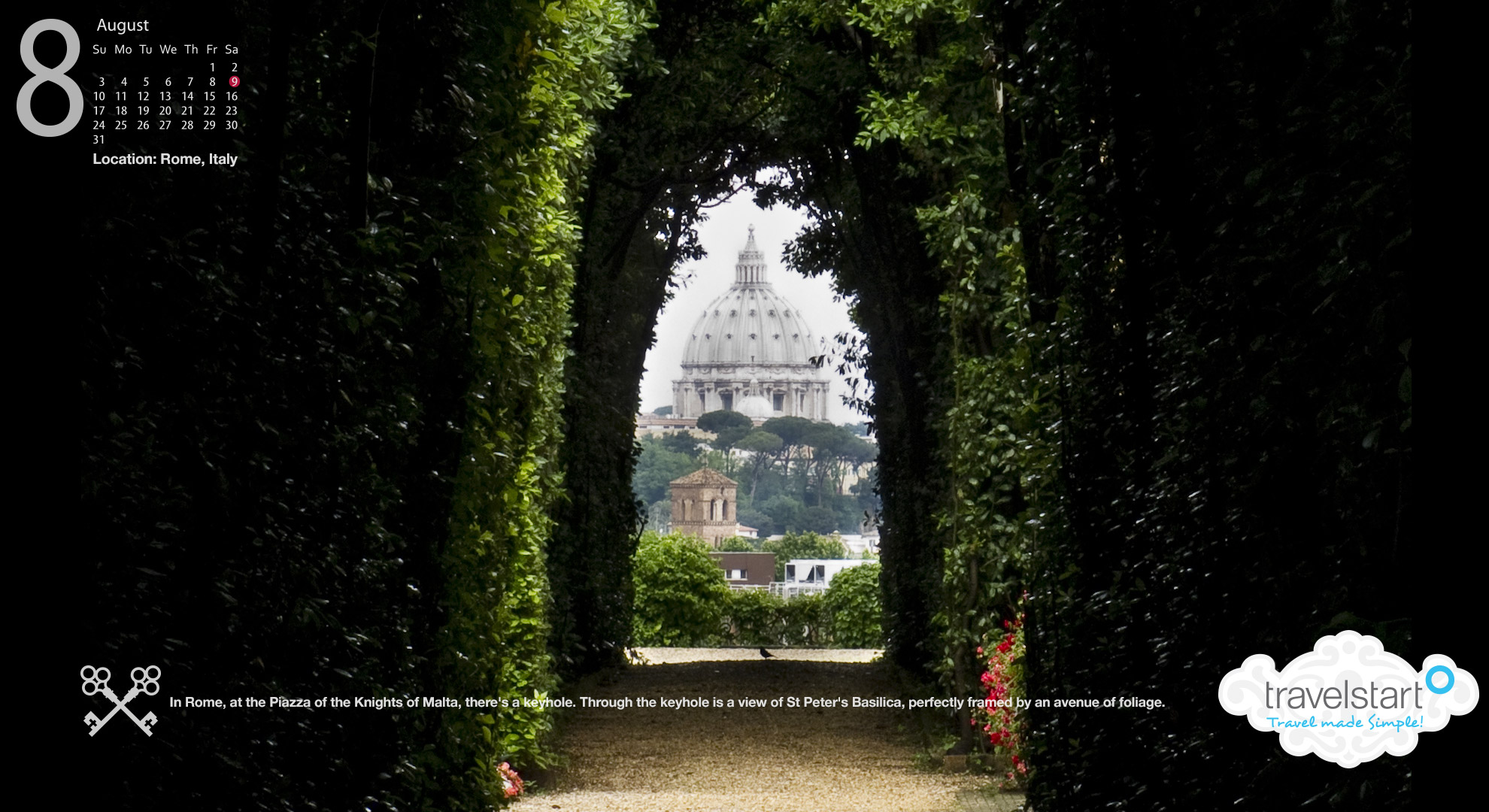 This month's free travel wallpaper features the Rome keyhole view of St. Peters Basilica. Free to visit, the Rome keyhole is a charming and lesser known attraction located on Aventine Hill. Sightseers step up to the non-descript door, peer through the keyhole, and are rewarded with a view of St. Peters Basilica, perfectly framed by an arc of healthy green foliage.
The doorway which holds the keyhole view leads to the Priory of the Knights of Malta, the legendary crusader knights and religious order.  While nobody knows whether this was a beautifully planned peep show, or just a lucky coincidence, we strongly recommend you take a turn past the 'Rome keyhole' next time you're in Italy's Eternal City; you won't be disappointed.
Italy Visa
South African passport holders travelling to Rome, Italy do require an Italian Schengen Visa.
As with most Schengen Visa requirements, if Rome is your only destination in Europe then you will apply for an Italian Schengen Visa. If you are visiting more Schengen States over and above Italy, then you should apply for a Schengen Visa for the European country you will be spending the most time in on your trip.
Italy Schengen Visa applications in South Africa are handled by CAPAGO, with application centres in Johannesburg, Durban, Cape Town and Pretoria. A list of documents required for your Italy visa application is available here.
Free Wallpaper Downloads for August 2014
Desktop Computers
1366 X 768 – DOWNLOAD (with calendar)
1366 X 768 –  DOWNLOAD (without calendar)
1980 X 1080 –  DOWNLOAD (without calendar)
1980 X 1080 –  DOWNLOAD (with calendar)
Laptops
1440 X 900 –  DOWNLOAD (with calendar)
1440 X 900 –  DOWNLOAD (without calendar)
Tablet Computers
960 X 800 –  DOWNLOAD
Phones
320 X 480 (for iPhone 3/Small Android) –  DOWNLOAD
640 X 960 (for iPhone 4/Regular Android) –  DOWNLOAD
Facebook Cover Photo
851 X 315 –  DOWNLOAD
You might also like