Travel can be tough unless you have a handy travel gadget! You're jammed into tiny seats, terribly close to strangers with nowhere to escape to if they have smelly breath. The hours are long, your hand luggage weighs more than it should and of course, the chatty group of friends on their way to a two-week holiday can be rather frustrating.
Always pack a practical travel gadget
All of this doesn't, however, mean that your trip can't be a breeze, and if it isn't a breeze, then at least it should be comfortable and a little easier than your last. We've rounded up a list of travel gadgets that are sure to make any travel marathon that much better…
Invest in a set of noise cancelling headphones
Other than being placed next to the toilet on a long haul flight, the next worse thing is being directly over the wing and by default, the engine. The whirring of a Boeing can become pretty frustrating after the first hour, so noise cancelling headphones are going to come in handy travel gadget to cut out the noise.
Plus of course, noise cancelling headphones will also help drown out any noisy passengers around you, and prevent you from being woken up when you finally get some sleep!
Handy hint: If you opt for traditional headphones with an auxiliary cable, keep a lookout for adapters that allow you to plug your headphones directly into the aeroplane's headphone socket. You can usually find these at the airport or in electronics stores.
Take along an e-reader or tablet
Rather than trying to stuff in a set of heavy and cumbersome books, invest in a e-reader or tablet as a travel gadget. They're obviously a lot slimmer and easier to pack, plus of course, you can carry even more books than you had anticipated in digital format!
If the cost of an e-reader or tablet is just too prohibitive, then search the web for e-reader apps that work with your smartphone. Downloading books to your smartphone is another option to carry less physical books on your next trip!
Weigh it up with a luggage scale
We've all been there: standing in the check-in queue, luggage at the ready, and panicked about whether we've over-packed. Nobody wants to the be the passenger digging through and organising their luggage on the airport floor, so get savvy about it!
Luggage scales, made as travel gadgets, easily hook onto the handle of your suitcase, allowing you to quickly weigh and assess whether you've put too much into your suitcase and whether you need to reconsider what you're taking along on a trip (or home for that matter). Doing this before you even leave for the airport will give you peace of mind, making the airport experience a simpler and more enjoyable one!
READ: Plan the best backpacking adventure with these apps
Pack your portable charger
Travelling is already quite stressful, especially when you're in a foreign country, you don't speak the language and all the signage you see is in another alphabet. The best way to keep in touch and on the go is through your smartphone. Translation apps, maps, and travel guides are all at the touch of a button, but what happens when the battery dies?
A good quality portable charger is the best travel gadget–to make sure your battery is always topped up and you don't end up spending more time than necessary in a cafe getting charged up. Invest in a portable charger as a travel gadget with a big battery life so you can charge your smartphone more than once, and perhaps even charge your tablet. Some chargers now also charge a laptop, which is definitely useful for long haul business trips.

Up your photo game with smartphone lenses
Why be limited to what your smartphone is capable of? If you're travelling, you'll definitely want to be able to capture each and every special moment as you go. Most of us only carry our smartphones when we travel but are often limited to what photos we can get with these.
READ: Top travel photography tips from the pros
A set of smartphone lenses that clip onto your smartphone can convert your basic images into super wide landscape ones. Or if you love being creative with your travel photos, a fish-eye lens will give you a fun effect. Once you're done, all you need to do is detach your lens and pop it back into your bag!

Keep the vibe going with a portable speaker
You know how whenever you hear certain songs, it throws you right back into the memory that it's linked to? The same can be said for travel and music. Enhance your trip by taking with a small portable speaker as a travel gadget of choice that you can use in your hotel room or on long car journeys.
Better yet, set up a playlist in advance of all your favourite feel-good tracks and shuffle through it during your trip. This will also be useful in case you're stuck inside due to bad weather or just having a spate of unfortunate travel events.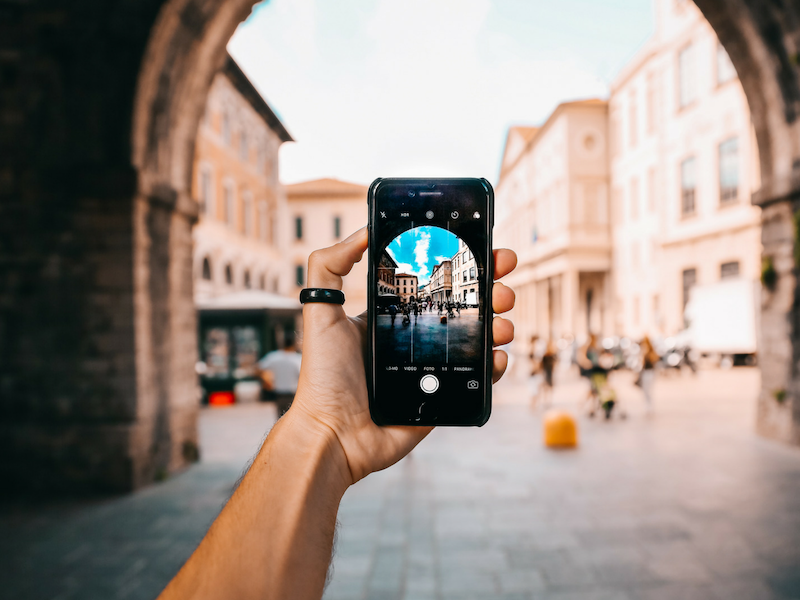 Keep everything safe with an anti-theft backpack
Sightseeing can be tons of fun when you're on that holiday of a lifetime. But where there are crowds, there are pickpockets and scam artists. One way to prevent your stuff from getting stolen is by taping it all to your body with duct tape, but an easier solution is storing it in an anti-theft backpack.
Generally, these backpacks are designed to hide their zippers so they can't be opened all that easily from the front, only when removed from your back. A clever way to deter pickpockets!
If you can't find or afford one of these nifty backpacks, take precautions by using locks, carabiners and cable or zip ties to secure the zippers and pockets on your bags when you're out and about in busier neighbourhoods. Carrying your backpack on your front is another way to deter criminals.
Search and Book Cheap Flights with Africa's leading online Travel Agency, Travelstart.
You'll need an electrical adapter
Finally, but certainly not least, don't forget to take along a multi-purpose adapter or travel adapter. South African plug sockets are different to the rest of the world and you don't want to end up with a dead laptop or phone battery on day one while you hunt out an adapter. You can find these at most electrical stores or even at the airport if you forgot to pack one!
What other useful travel gadgets do you always pack for your trips? Let us know in the comments below…