Child Friendly Attractions in Durban
Child Friendly attractions
There's a lot more to Durban than hot weather and equally hot curries! Thankfully the city has a lot of activities if you're looking for some timeout in the shade. And if you're travelling with young children then this little luxury is an absolute must!
As South Africa's third largest city, Durban promises child friendly attractions of all types. From the indoors to the outdoors, the educational to the downright fun and fantastical; you and your family will never be left wondering what to do next.
We've started this page with a few popular things for kids in Durban but we plan to expand it as we go. If you have suggestions for
child friendly attractions and things to do in Durban
and would like them featured on this page then please email
russell@travelstart.com
with some info and pictures about your recommendation.
uShaka Marine World
After opening to the public in 2004, uShaka Marine World fast became a firm favourite when it comes to
things to do in Durban
. The big fish tank on the south side of the Golden Mile encompasses much more than a
world class aquarium
. Upon entering through the gates of uShaka you can choose from a multitude of attractions and fun activities. Aside from the aquarium you can treat your family to the water slide park called
Wet 'n Wild
(has the highest slide in the Southern Hemisphere), as well as numerous shops and restaurants like the African themed
Moyo
. Experienced lifeguards are always on duty at Wet 'n Wild.
Not to take anything away from the Sea World at uShaka Marine World; after all it is the main attraction. Currently it's the 5th largest aquarium in the world and boasts dolphin shows, seal shows, penguin presentations, shark dives, ray feeds and so much more! Everything at uShaka is suitable for kids and adults and promises to be an enriching experience as experts find the perfect balance between a little education and a whole lot of fun.
Kids World at uShaka
Alongside Sea World is uShaka Kids World – a huge playpen for children between 2 and 12 years of age. It's chock-full of activities and is home to Africa's largest jungle gym, the Crabby Beach giant sandpit and Polly's Paint Pen. Guaranteed fun for little one's from dusk till dawn.
Tip for parents: Dining in the Cargo Hold restaurant is a must offering you the opportunity to enjoy fine cuisine with a massive shark tank as the backdrop!
Gateway Theatre of Shopping
The Gateway Shopping Centre in Umhlanga, Durban is the largest on the African continent complete with cinemas, restaurants, retail outlets, a playhouse called the Barnyard Theatre and more than 400 shops all under one roof. But when it comes to your child then the Wavehouse is most definitely the main attraction.
If your young'un is an aspiring Kelly Slater or Jordy Smith then they'll go bananas for the Wavehouse. Aside from the standing wave at Gateway, the Wavehouse also sports a skate park designed by the man himself, Tony Hawk (if you don't know who Tony Hawk then mention his name to your skater boy for added parental points).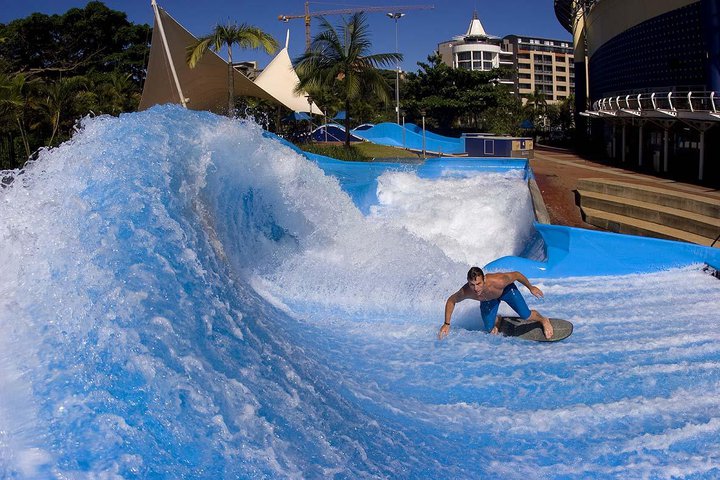 It doesn't end there, the centre also has one of the highest indoor climbing walls in the world and you don't have to be a pro to enjoy it. Bottom line - Gateway Shopping Centre has to be seen to be believed so make sure it's a part of your child's Durban itinerary.
Mini Town on the Durban Beachfront
There's a good chance your Mom's Mom spent time at Mini Town as a child. It's been a landmark of Durban's Golden Mile Beachfront for over 40 years and has managed to preserve a miniature version of Durban architecture even though the city's skyline has evolved immensely.
Mini Town occupies the northern reaches of Durban Beachfront (near Snake Park Beach) and a visit will see you and the little one's exploring the 1:24 scale town which includes a Durban City Hall replica, the Holiday Inn on the beachfront, a miniature Durban harbour and airport.
Susanne's comment on the
Travelstart blog
pretty much sums it up: "
Even though I'm oldish now, I enjoyed Minitown in Durban immensely. The fact that you can be Godzilla for a day and take photos of you 'climbing' buildings… well, that is priceless!
".
Mini Town entrance fees are a steal at R10 for children ages 2 - 12 and R15 for adults and it's open from 9:30am to 4:30pm all year round.
Umgeni River Bird Park
Located just 10 minutes north of Durban central, the Umgeni River Bird Park promises a fun outing for the whole family. Walk through the park's lush gardens while admiring exotic birds and cooling water features.
Be sure you don't miss out on the Free-Flight Show. It has a conservational edge helping the little one's learn about the importance if their environment, and at the same time they'll be supremely impressed as birds glide past them in full and unrestricted flight.
The Umgeni Bird Park is open every day from 9:00am to 5:00pm.
---
Share the news