Tucked away in the tranquil suburb of Morningside, Durban's Mitchell Park is one of eThekwini's best kept secrets. The park has a history that dates back to the early 1900s, and while much may have changed in terms of the surrounding area, the same charm and scenic wonders can still be found in this suburban greenbelt.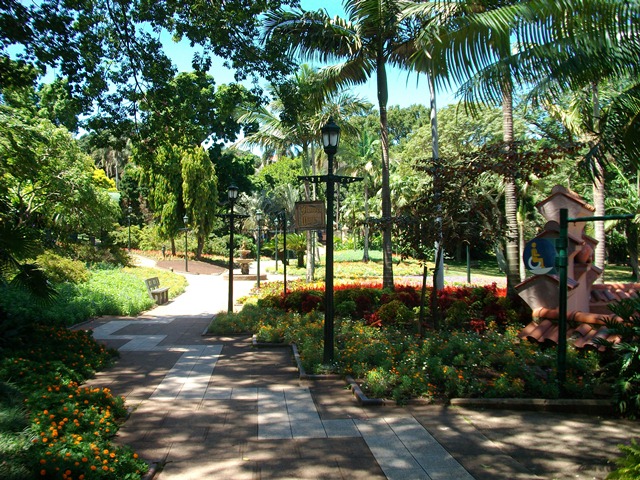 Park Hours, Facilities and Admission Costs
Location: 10 Ferndale Road, Morningside, Durban – just up from trendy Florida Road.
Hours: Daily 8am to 4pm.
Admission: R8.00 for adults, R5.00 for children, R2.00 for pensioners.
Facilities: Children's playground, braai areas, picnic lawns, Mini Zoo, Blue Zoo Restaurant and Alley's Snacks.
Events: The Bandstand venue can be booked for children's parties and other events, at a cost of R130 for four hours.
Contact Mitchell Park on 031 303 2275
Mitchell Park Zoo
Many moons ago Mitchell Park was first established as an ostrich farm by Sir Charles Bullen Hugh Mitchell. Sir Charles soon realised that the grounds would be better used as a zoo and thus the Mitchell Park Zoo was born.
One of the park's oldest residents is Admiral – an ancient tortoise that first came to the park in 1915. As you may know, tortoises have a very long life span. Needless to say, Admiral is still going strong and is a popular resident of the park.
Today, there are many inhabitants of all shapes and sizes that call Mitchell Park Zoo their home. There is a range of exotic birds, as well as other feathered friends such as ducks, peacocks, cranes and flamingos. Wallabies, small antelope, crocodiles, raccoons, and a variety of monkey species also occupy the park's enclosure. You might even see the shy bush babies if you look carefully enough. Look out for the walk-through aviary that offers fantastic encounters with many of Mitchell Park's birdlife.
For children, Mitchell Park in Durban is a wonderland of exciting sights, sounds and experiences. Aside from the zoo and its many creatures, the park also boasts a playground that is specially designed for small children. There are jungle gyms, swings and slides, as well as a sandy covering for added safety. Moms can sit and relax nearby, while visitors of all ages can enjoy a bite to eat at the Blue Zoo restaurant.
If you're looking for something fun to do in Durban that caters to all ages, be sure to take a turn passed Mitchell Park Zoo for a memorable experience.
---
Share the news