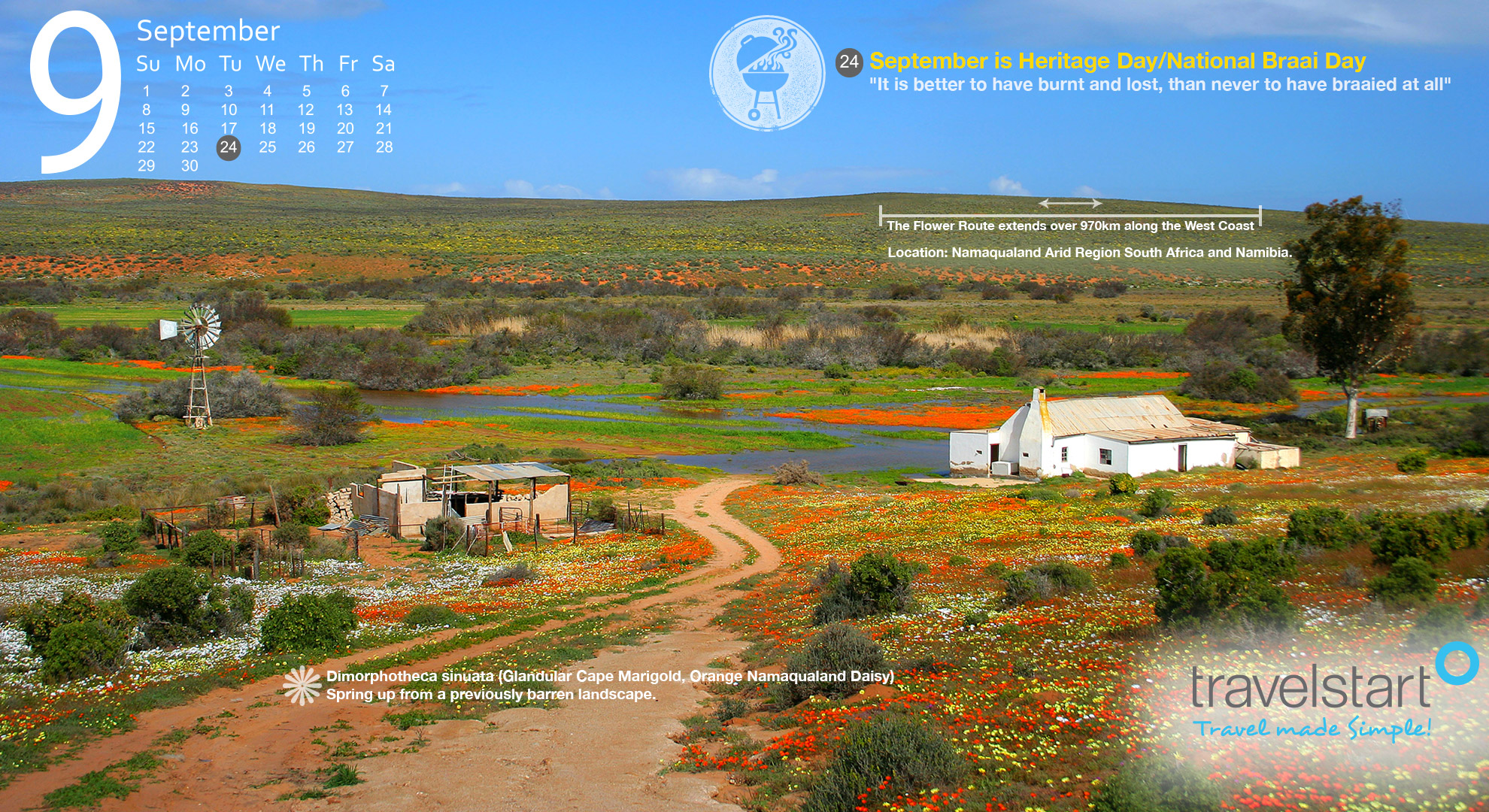 With September falling on a Sunday this year we've released the latest free wallpaper calendar a little early. Designed for you with love from Travelstart, this month's calendar goes a long way in changing your favourite devices into an outfit with a decidedly sunnier outlook on life.
And why shouldn't your device feel sunnier?
After all, September means 3 positive things to most South Africans – Spring, Heritage/Braai Day and a public holiday (remember to put leave in for Monday, 23 September if you want a four day weekend), and the first noticeable signs of summer.
Go on. Click download below. You know you want to. Plus it's free!
Once again we've tried to cover most of the popular devices but if the free background isn't a good fit for your phone, tablet or computer then let us know in the comments below (remember to include the name of your device and optimal screen resolution if possible) and we'll see what we can do to fix that.
Desktop Computers
1366 X 768 – DOWNLOAD
1980 X 1080 – DOWNLOAD
Laptops
1440 X 900 – DOWNLOAD
Tablet Computers
1024 X 768 – DOWNLOAD
960 X 800 – DOWNLOAD
Phones
320 X 480 (for iPhone 3/Small Android) – DOWNLOAD
640 X 960 (for iPhone 4/Regular Android) – DOWNLOAD
Facebook Cover Photo
851 X 315 – DOWNLOAD
West Coast Spring Flower Resources
And here's a few blog resources to get you going if you're in the Cape this spring
7 of the Best Places to See Spring Flowers in South Africa
Day Drives from Cape Town – Franschhoek Wine Route
Greenpoint Park and Biodiversity Garden, Cape Town
It's a blooming affair in Namaqualand
Kirstenbosch Gardens
6 Of Cape Town's Most Scenic Drives