6 of Cape Town's most Scenic Drives
The Western Cape encompasses some of South Africa's most spectacular scenery and coastline. Well signposted and nicely conditioned roads lead you from beautiful beaches and mountain vistas to the low-lying fynbos fringed roads stretching up the West Coast. The variety of landscapes is unmatched and whether you've decided to hire a car, or have opted to relax in the back of a tour bus, make sure you check out these scenic drives in and around the Mother City.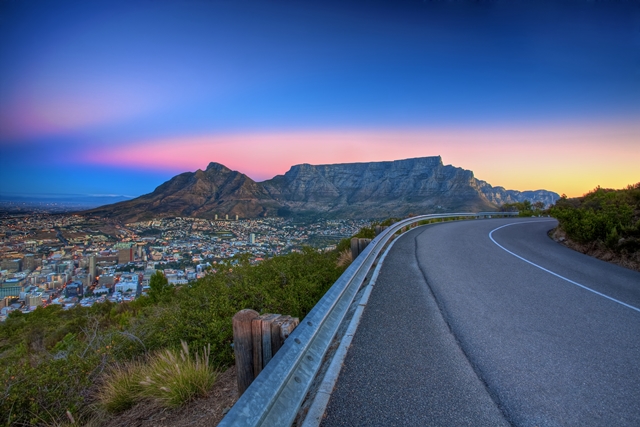 1. Chapman's Peak
One of Cape Town's most loved roads, Chapman's Peak Drive offers drivers the chance to explore, as well as a convenient route between the city and the Southern Peninsula. The road was literally born out of blasting through the side of Chapman's Peak and boasts 114 curves as it winds its way above the coast. If you're looking for remarkable panoramic shots to take home with you then Chapman's Peak is a must.
Depending on what direction you're travelling from, your Chapman's Peak drive can culminate in a nice lazy lunch. Try the Red Herring in Noordhoek if you've come from Hout Bay or Mariners Wharf in Hout Bay if you've come from the south.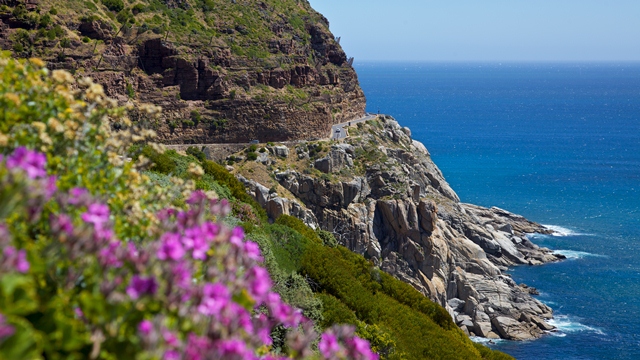 Bring: cash for the toll gate (R33 for light vehicles – February 2013), binoculars, and camera.
Pull over: at numerous rest spots along the road to savour exhilarating views of Hout Bay (there's even one viewpoint that has a cave underneath it).
Beware of: cyclists, sharp corners and possible rock fall (though the road will more than likely be closed if there is risk).
Call: 021 791 8222 before you set off. If the weather looks dubious then the call centre can confirm whether or not the road is open.
2. The Wine Routes
There are 18 official wine routes in South Africa and the Western Cape region can lay claim to all of them. Not one to forgo quantity in favour of quality, the Cape also offers some of the best wine routes in the world. And unless you've been passed out in a barrel for the last 50 years then you've probably heard of Constantia, Stellenbosch, Franschhoek and the like. All of them in the greater Cape Town area, you'll be met by magnificent scenery and picture book wine farm scenes when you decide to take a drive.
Much like the cheeses and wines you'll taste, the scenery is full bodied and flavourful. Immerse yourself in the fine winemaking tradition of the Cape and discover the finest wine routes in the world.
Have: a designated driver of sober habits if you plan on wine tasting.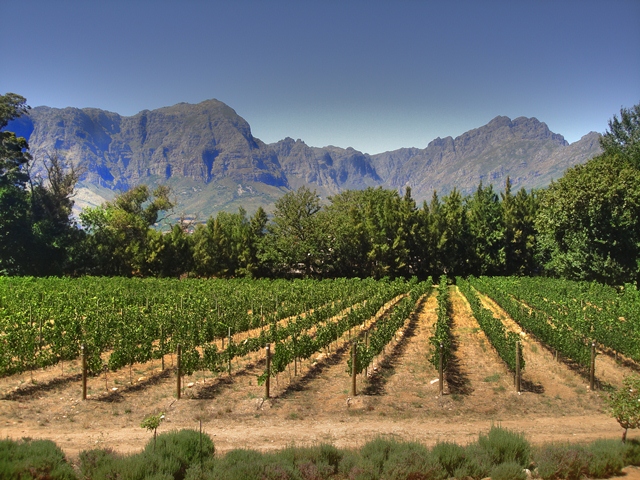 3. The West Coast Flower Route
Time your Cape Town holiday well and you might be lucky enough to experience the West Coast Flower Route in all her blossoming glory. During the months of August and September, the wildflower displays on the Cape West Coast are considered to be among the best in the world.
The West Coast Flower Route is about 100km from Cape Town so make a day of it and go when the sun is shining to see the flowers in their full glory. If you're not feeling "picnicky" then carry on to Langebaan and the famed Die Strandloper restaurant for a seafood feast or check out the cultural town of Darling – home to South African satire legend and comedian Pieter Dirk-Uys (AKA Tannie Evita).
Pack: camera, a picnic, sunscreen.
Call: the flower hotline on 071 320 7146.
Read: more on the Travelstart blog.
4. Helshoogte Pass
As Stellenbosch disappears in your rearview mirror and you head to new vineyards in Franschhoek make sure you're on the Helshoogte Pass. Besides the world class wine farms scattered along the way (including Boschendal, Tokara, Delaire Graaf), this pretty pass offers a convenient and picturesque route between Stellenbosch and Franschhoek/Paarl.
Enjoy towering mountains above and lush valleys below while browsing the wine farms on Helshoogte Pass.
5. Signal Hill
Signal Hill (headline image) is largely considered to be the "rump" of Lions Head but don't let that description deter you. It's a favourite among resident and touring families and serves up the perfect spot for romantic couples looking to end the day with an awesome view, glass of Sauvignon Blanc in hand.
The hill is located 350m above ground zero and offers awesome, 360 degree views of the Cape Town city bowl, Table Mountain, Green Point and Robben Island. It's a great alternative to making the tiresome trek up Lions head and is a must if you have some time to kill.
Pack: some cash for the ice cream van, camera/binoculars, sundowners and a picnic basket.
Beware: tour buses (there can be many).
6. Victoria Rd between Camps Bay & Hout Bay
For many Capetonians Victoria Road is simply the daily commute between work and home but that doesn't make it any less inspiring. Connecting the lofty seaside villas of Camps Bay and Llandudno and the suburban bliss of Hout Bay via Suikerbossie, Victoria Rd winds its way between the Twelve Apostles and the Atlantic Seaboard.
Combine this short road trip with a visit to the Bay Harbour Market in Hout Bay or sundowners in one of Camps Bay's trendy sidewalk cafes.
Browse: the roadside curio shops selling wood carvings, Nguni rugs and more along the route.
Anonymous Tip: Boyes Drive (between Muizenberg and Kalk Bay)
Here's some insider knowledge for those of you that have been stuck in the often awful summer traffic on Main Road between Muizenberg and Kalk Bay – there's another road! It's called Boyes Drive and it runs above and parallel to Main Road. Besides being the quick and easy way to get to "Kalkies" and beyond, it also offers amazing views over False Bay. When the whales are in town (usually late winter to early spring) there's hardly a better spot to view them from. And as if the news couldn't get any better, there's beer and pizza at the end of the rainbow… at The Brass Bell in Kalk Bay. Check out the 3D map below showing Boyes Drive elevated above Main Rd.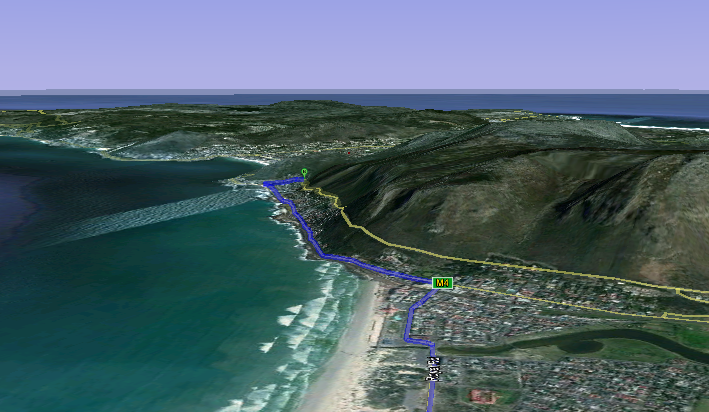 Beware: the speeding camera (it's a 60km/h zone).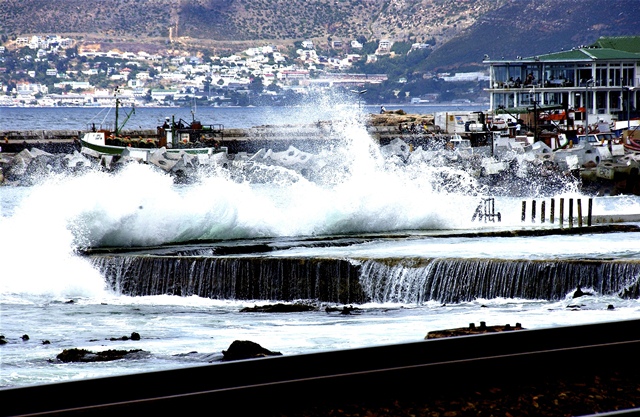 When it comes to scenic drives in Cape Town, we really could go on and on. From Silvermine and the Huguenot Tunnel to the Hex River Valley and the spectacular R44 between Gordon's Bay and Pringle Bay, you're spoilt for choice. The best thing you can do is hit the road with family and friends. Carve your own way along this unique peninsula and no matter where the road takes you remember… in South Africa always keep left.
Click for cheap Cape Town car hire.
This information was relevant at the time of publication. While every effort is made to keep information as fresh as possible, Travelstart takes no responsibility for any of the information being out of date or incorrectly noted.
---
Share the news