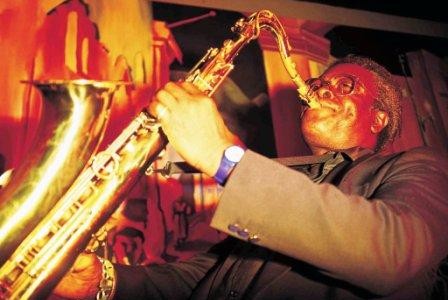 If you're looking for the best jazz in Johannesburg, start by making your way to Newtown, and take a journey down Jozi's equivalent of Basin street.
Here, in the Market Theatre Complex, you'll find Kippies, a Jozi jazz legend that refuses to fade away. Now in its 3rd incarnation, the club's location may have changed but Kippies, named after saxophonist Kippie Moeketsi, remains Jo'burg's oldest and most famous jazz club. Legend has it that former U.S. President Bill Clinton dropped by to play the saxophone there some years back, but Hilary refused to get out of the car as she didn't like the look of the area, and Bill had to forego the privilege of being among the greats to have graced Klippies' stage. The list of local and international artists that have played at this Newtown Jazz club reads like a who's who of jazz. Open from Thursday to Saturday, music starts at 21h00, and ranges from Afro, Latin, and Caribbean to American standards.
Visit Bassline in Newtown for Afro-jazz as well as blues, soul, reggae, and any other contemporary African music genre you can think of. Bassline has a purpose built 1000-seat auditorium and attracts audiences as varied as the clubs' musical repertoire. There's also a more intimate 150 seat venue. Even before Bassline moved to Newtown, its raison d'etre was nurturing and promoting African artists and the cultural exchange is still grooving strong. South African jazz greats like Vusi Mahlasela, Jimmy Dludlu, Sipho Gumede, Jonas Gwangwa and Oliver Mtukudzi are among the jazz talents that have jammed here. Open Tuesday to Sunday. Performances generally start at 21h00.
Sophiatown Bar Lounge, also in Newtown, offers a township inspired menu and jazz every Wednesday night.
If Bourbon and Blues are your idea of heaven, get down to Katzy's, a New York styled piano-cum-cigar bar located at the Grillhouse restaurant in Rosebank. The ambience at this jazz lounge in Johannesburg is super-sophisticated meets speak-easy so make an effort – ties and jackets come off anyway when patrons get in the mood. A cover charge applies, but it's worth it for the regular line-up of top notch local muso's that tinkle the ivories and slap the base here. Sink into a leather couch and soak up from classic jazz covers to cool crossover grooves. Open Tuesdays – Saturdays till late.
The original Back 'o the Moon was a famous Sophiatown shebeen in the 1950's. Reincarnated at Gold Reef City Casino in Johannesburg, the new Back 'O the Moon is a sophisticated restaurant with an extensive wine list and a Mediterranean style menu dominated by rather pricey seafood. If you favour a venue with sumptuous surrounds, and where you can have a conversation without bellowing over the background music, come and enjoy the resident jazz band that performs here Thursday to Saturday night.
The Blues Room located in the Village Walk shopping centre in Sandton, is an upscale nightclub with live entertainment ranging from DJ's and comedy to reggae bands. Jazz and blues are less common on this venue's music menu than they used to be, but when they play 'em, they play 'em good. Check the online gig guide for details. Open Tuesdays – Saturdays from 4:30pm in the bars, from 7pm in the restaurant till late. Cover charge applies.
Listen to traditional jazz at Radium Beer Hall in Orange Gove. Wednesday's are Blues and Rock night, and on Friday night's the resident Radium Jazz band will have you toe-tapping and finger-snapping between tucking into generously portioned and well-priced Afro-Portuguese cuisine. Mondays – Saturdays 10am – 12pm. Occasional cover charge applies.

for the best flight deals to Johannesburg!