An archipelago known as the Spice Islands, Zanzibar is more than just an idyllic beach destination. From turquoise surf and white-sand beaches to prime diving conditions and vibrant culture, Zanzibar is the complete package. Naturally, the next question is, 'so, where is Zanzibar?'.
Where is Zanzibar located?
Comprised of several islands belonging mostly to Tanzania, the Zanzibar archipelago is located just off the coast of East Africa. Zanzibar is a semi-autonomous region, or dependent territory, of Tanzania. Referred to colloquially as just Zanzibar, Unguja Island is the most populated and home to its capital, Zanzibar City. At the heart-centre of the capital is Stone Town, a UNESCO World Heritage Site and the 'old quarter' of Zanzibar.
Map of Zanzibar
Use this handy, interactive Zanzibar map to familiarise yourself with the island archipelago.
A brief background for your trip to Zanzibar
Although a largely a Muslim population, Zanzibar is culturally diverse and boasts a colourful history. Zanzibaris are considered to be warm, hospitable people and will welcome you with open arms. Being a more conservative culture than that of Westerners, there are a few tips that will help you to navigate Zanzibar life a little better.
Be mindful of modesty. In the way you dress and behave – leave bikinis for resorts.
Respect the elders. Elders are highly respected by the community.
Homosexuality is illegal. Exercise caution with public displays of affection.
Single-use plastic is banned. This is a fineable offence, so instead use eco-friendly, recyclable alternatives.
Removing shells or animal parts is prohibited. Don't try to take them home with you!
Why visit Zanzibar?
What is Zanzibar famous for? The most renowned feature of Zanzibar has to be its beaches. A tropical paradise awaits just hours from South Africa, where soft, white beaches bake under the sun, lapped with azure water and shaded by coconut-heavy palms.
Once you've had your dose of sun, sand and vitamin sea, the turquoise depths offer an opportunity to go diving amongst ample marine life and corals in a spectacular underwater landscape. If you prefer to stay a little closer to the surface, snorkelling in Zanzibar should make it to the top of your list!
Remnants of the famed spice trade of Zanzibar still exist in the many active spice plantations that can be explored on a day tour. Savour the taste and smell of aromatic plants and herbs that dot the countryside and learn about the longstanding spice tradition.
Steeped in history and culture, plan your own Stone Town walking tour and get lost in the sights, sounds, streets and souks of this fascinating city. Sample local streetside cuisine, or stop at the Stone Town fish market, piled high with silver mounds of shark, tuna and an array of squid.
Zanzibar nightlife is vibrant and diverse. As the sun sets on paradise, navigate to one of the many restaurants, beach bars or nightclubs to enjoy good food, cocktails and an array of music to make the most of the time on your island stay.
What is the best time to visit Zanzibar?
The best time to visit Zanzibar is during the dry months. Enjoy balmy Zanzibar weather at its finest from July to September and during the peak season that spans December to February. While there are short rains around November and December, March through to May is regarded as the rainy season.
Also read: The dreamiest things to do in Zanzibar
How do you get around Zanzibar?
Although you may wish to never leave the comfort and bliss of your resort, there are so many wonderful opportunities to explore the island. Some of the options for getting around Zanzibar include:
Dala Dala (minibuses departing from Stone Town)
Shared Taxi
Private taxi
Rental car
Rental scooter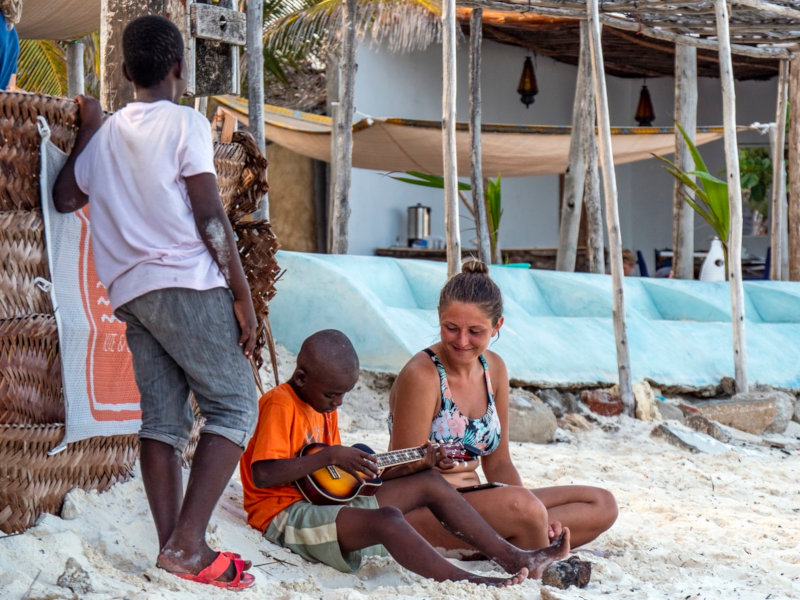 Where should I stay in Zanzibar?
You will find plenty of fun-fuelled activities to fill your days and there are also endless stretches of coastline to be enjoyed, and a sandy, coconut-shaded spot that calls your name. Where is Zanzibar's best locale?
Considering Unguja, (the largest Zanzibar island) Stone Town in the west is the starting point of many tours and excursions. With so much to see and do, ideally, you will want to spend at least a few nights here to take in the history and culture of the island.
To the north is Nungwi, a prime diving location dotted with PADI accredited dive centres and home to the Mnarani Aquarium – a sanctuary for hawksbill and green turtles. Nearby, Kendwa is considered a quieter alternative to Nungwi and equally known for scuba diving and white-sand beaches.
The best beaches in Zanzibar can be found on the north-east coast, with resort-lined seashores that are perfect for swimming, snorkelling or sunbathing. Kiwengwa and Matemwe are popular choices for rest and relaxation in an idyllic setting. Spend anywhere from a few days to your entire trip just soaking up the atmosphere.
Southern Zanzibar offers close proximity to the spice plantations and both Jozani and Muyuni forests, with most holidaymakers settling near Kizimkazi beach, for the chance to spot humpback and bottlenose dolphins.
Check out the latest holiday packages or Zanzibar hotels on Travelstart, and you could be checking in to that carefree island life sooner than you can say 'Hakuna Matata!'.
How do you get to Zanzibar?
A direct flight to Zanzibar is the easiest way to get to the archipelago. Abeid Amani Karume International Airport (ZNZ) is approximately a 10-minute drive from Zanzibar City. You can search, compare and book your cheap flights to Zanzibar on Travelstart!
Why not catch a flight to Tanzania and explore the African east coast, before hopping over to Zanzibar? Ferries operate between Dar es Salaam and Zanzibar with a journey of approximately 2-3 hours, while 20-30 minute flights are also available.
Is Zanzibar safe for tourists?
As with any tourist hotspot, it's good to exercise common sense when travelling to Zanzibar. Avoid deserted beaches and walking alone at night. There are occasional incidents of petty theft, so rather leave valuables at your hotel when heading to the beach. Apart from that, the only thing you might want to watch out for is heavy coconuts falling from the trees!
What vaccines do I need for Zanzibar?
There is a malaria risk in Zanzibar and it's advisable to take preventative measures against it, while yellow fever vaccinations are compulsory. Also recommended is a vaccination against hepatitis A and B, as well as cholera. Drinking bottled water versus tap water is preferable too.
What should I pack for a Zanzibar holiday?
While in the cocoon of your coastal resort, tropical attire is definitely on the cards! Dress on the side of conservative, however, when exploring outside of 'tourist areas' or venturing into the villages and quieter parts. Although locals may be used to seeing all types of travellers and their attire, it's best to be sensitive to local customs.
When travelling during the two dry seasons – cool from June to October and a hotter, more humid stretch from January to February – pack floaty, lightweight clothes, sunscreen and a hat. Beat the year-round heat and humidity by packing clothes in natural fibres like cotton, silk and linen. While travelling during the two wet seasons – March to June and November to December – a rain jacket should do the trick.
Apart from that, be sure to bring along plenty of mosquito repellent and pair of sea shoes for navigating sea urchins and sharp coral.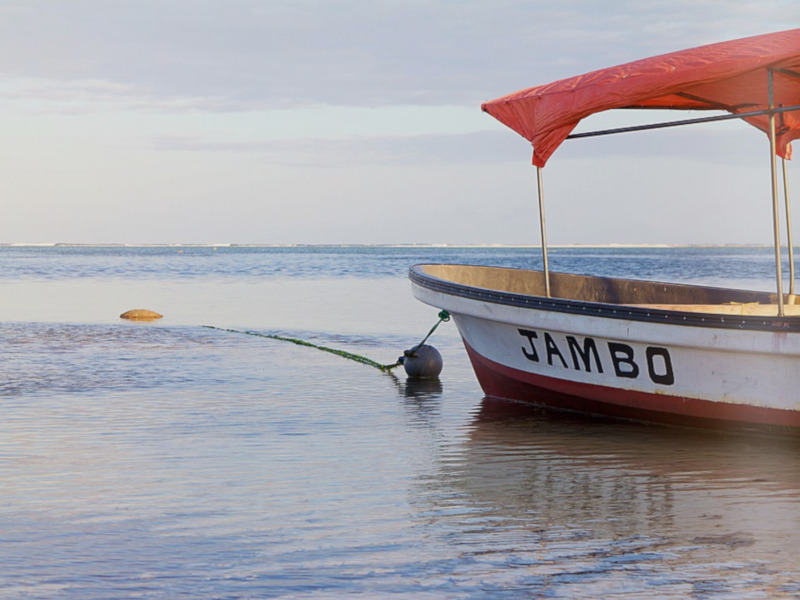 So now that we've covered the 'where is Zanzibar' question, what are you waiting for? Head to this little slice of heaven under the east African sun, for a healthy dose of rest and relaxation.
Drop us a Jambo (that's Swahili for hello!) and stay in touch by signing up for our newsletter for a little bit of travel inspiration delivered straight to your inbox.
Will you be travelling to the unspoiled island of cloves? Or perhaps you are itching to return to its beautiful shores, complete with sandy feet and salty hair? Share the island love and tell us all about it!
All information on this blog page was correct at the time of publishing and may change at any time without prior notice. Travelstart will not be held liable for loss or inconvenience resulting from the use of out-dated or incorrectly noted information.