Cape Town Jazz Festival – April 5 & 6, 2013

Jazz fans, listen up; April is the month to be in Cape Town! The Fourteenth Annual 2013 International Jazz Festival promises to be the best ever. Not only will you be able to attend the world-class jazz performances, but you will enjoy Cape Town weather at its best. Clear sunny skies, pleasant windless days and cool evenings. This is the perfect time to savour the many attractions in Cape Town, namely, spectacular scenery, world-class cuisine, the best wines, and in the evenings of course, superb jazz performed by acclaimed artists.
Bigger and better than ever before, this year's line-up consists of more than forty international and local jazz bands and includes the Orquesta Buena Vista Social Club, the world-famous 13-member Cuban jazz ensemble (including vocalist Omara Portuondo), Chano Dominguez of Spain, Gregory Porter, the Jack deJohnette Trio, and the Robert Glasper Experiment, all from the USA; and the Brand New Heavies, an acid funk jazz group from London. Jimmy Dludlu and Zonke Dikana, our local South African stars, are also on stage. Other South African jazz icons to perform include Louis Moholo, Ibrahim Khalil Shihab, Afrika Mkhize, Jonathan Rubain and Don Vino, and Ben Sharpa and Pure Solid.
The line-up features:
Orquesta Buena Vista Social Club feat. Omara Portuondo (Cuba)
Brand New Heavies (UK)
Jill Scott (USA)
Jimmy Dludlu (South Africa)
Zonke Dikana (South Africa)
Thandiswa Mazwai (South Africa)
BWB's Norman Brown, Kirk Whalum, Rick Braun (USA)
CéU (Brazil)
Cheikh Lô (Senegal)
Errol Dyers (South Africa)
Pu2ma (South Africa)
Claire Phillips (South Africa)
Mi Casa "My House" (South Africa)
Khuli Chana and AKA (South Africa)
Dubmarine (Australia)
Trenton and the Free Radicals (South Africa)
Brother Ali (USA)
Mafikizolo (South Africa)
Ben Sharpa and Pure Solid (South Africa)
Chef'Special (Netherlands)
Auriol Hays (South Africa)
Jonathan Rubain and Don Vino (South Africa)
Afrika Mkhize (South Africa)
Ibrahim Khalil Shihab (South Africa)
Louis Moholo presents 4 Blokes & 1 Girl (South Africa)
Jack DeJohnette, Ravi Coltrane, Matt Garrison trio (USA)
Reza Khota Quartet (South Africa)
Jean-Luc Ponty (France)
Sonti (South Africa)
Kirk Whalum – Romance Language (USA)
Chano Domínguez (Spain)
Robert Glasper Experiment (USA)
Gregory Porter (USA)
Steve Turre (USA)
Ronin (Switzerland)
- Enquire now about the 2013 Cape Town Jazz Festival Holiday Package -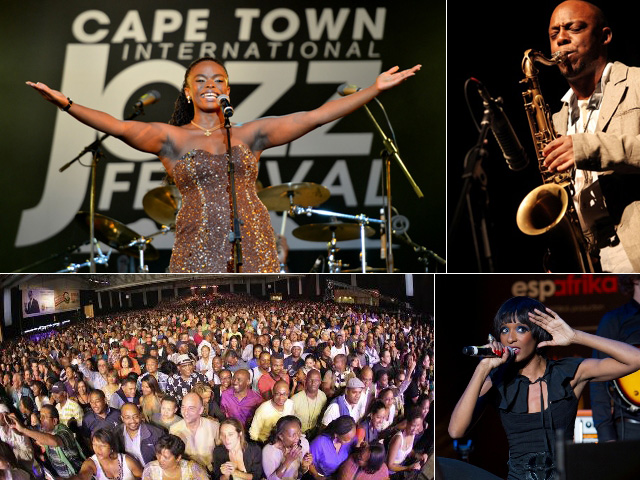 The venue for this star-studded event is the popular Cape Town International Convention Centre, Convention Square, 1 Lower Long Street, Cape Town.
The event kicks off on Friday 5 April at 18:00, and the Saturday events will start at 16:00. There are two ticket options; one is a day pass for R440, and allows you to come and go throughout the full two days, the weekend pass goes for R645. You can buy your tickets from Computicket, either online through Computicket, via telephone (0861 915 8000), or at their outlets and Shoprite Checkers grocery stores.
Attendance figures for this hugely popular music festival have increased from the initial 14 000 to 34 000 over the last thirteen years which means you have to act fast to buy your tickets. Tight security measures will be in place to ensure that everybody has a good time, and the CTICC is well-equipped to accommodate handicapped patrons. Not only that, but ATMs are available as well as Foreign Currency Exchange venues for those of you who still need to make the shift to Rands. You will also have enough opportunities to snag some souvenirs to remind you of the good time you had in the form of posters and clothing, and you can purchase CDs as well.
Ample parking is available at the Convention Centre and accommodation options abound in the immediate vicinity. The multi-billion rand harbour development at the Victoria & Alfred Waterfront with its many attractions is but a short distance from the Centre, so you can spend the afternoon there before moving on to the Jazz.
---
Share the news