Singapore: The 24 Hour Itinerary
Singapore is a fascinating city-state containing a myriad of cultures. Located just above the equator (yes it's hot & humid in Singapore) at the tip of the Malay Peninsula, Singapore is home to a population of over 5 million people, most of who are of Chinese, Malay and Indian origin. With its mouthwatering cuisine, sleek modern architecture and engaging attractions, the 'Lion City' is an ideal destination to spend 24 incredible hours.
Ask your
travel agent
about Singapore as a stopover destination if you're travelling east. It's a
Visa-free
destination for South Africans, and is well worth the visit if you're keen to notch up another stamp on your passport. Use Travelstart to book your
cheap flights to Singapore
.
Seeing in Singapore
Start your day off with breakfast at the Singapore Zoo, a world-class rainforest reserve where visitors have the chance to dine on local fare with friendly orangutans. The zoo has an open cage concept that adds to its utopian feel in comparison with other, somber zoos. After losing track of time in the interactive exhibits, escape the humidity to the Downtown Core where the rest of the day's activities are all in close reach. Immerse yourself in the myriad cultures represented at the Asian Civilization's Museum, an impressive must-see housed in the handsome 19th century Empress Place building. Once you absorbed enough history to quench your thirst, head over to hip Ann Siang Hill in Chinatown for milk tea and melon cake from one of the many patisseries in the colorfully restored town. If you're looking for something heavier to satisfy your appetite, make your way toward one of Singapore's top foodie spots, Little India, where Hindi music blares from shop windows and opulent temples line the streets. From your spot in the Ronchor District, shop your way down stylish Orchard Road toward Esplanade - Theaters on the Bay. The waterfront performing arts center is a sight to see at night, when the sleek glittering skyline reflects off of Marina Bay. A romantic dinner on the Esplanade would be an idyllic way to end your visit to the Lion City.
Shopping for electronics
If it's the cheap gadgets you're after then head directly to Sim Lim Square on Singapore's Rochor Canal Road. Offering six floors of electronic stores, most vendors are open to bargaining. Just beware of potential scams at Sim Lim including the "no pricetag scam", the "GST scam" (Goods & Services Tax) among others.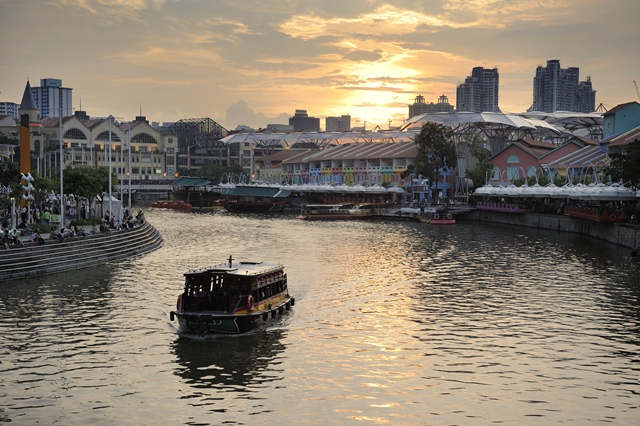 Getting around
With all the transportation options available to and from Changi Airport, it's easy to navigate your way in Singapore.
A free shuttle bus service is available from Bedok, Sengkang MRT stations and Changi Business Park to the airport, as well as a 24-hour airport shuttle service at an affordable rate. Public bus service 36 goes to the city and buses from the city will stop at Terminals 1, 2 and 3. The Changi Airport MRT subway Station is located at the basement of Terminals 2 and 3, accessible from both the Arrival and Departure Halls.
For drivers, car parks are available at every Terminal of the airport, with
car rental
counters located at the Arrival Halls of Terminals 1, 2 and 3. Taxis are available at the Arrival levels of each Terminal and can be hailed on the street or booked through hotels. Finally, the Ground Transport Desk is a 24-hour counter catered to handle all passengers' transportation requests.
---
Share the news