Child Friendly Cape Town Attractions
Child Friendly Attractions
Beyond Cape Town's coasts and parks reside child friendly attractions and places where parents can relax and let the little ones run loose. Right now, more and more families are discovering Cape Town as a great family, child friendly holiday destination. Whether you're looking to get close to the penguins at Boulders Beach, Find Nemo at the Two Oceans Aquarium, or seek thrills at Ratanga Junction; you can rest assured that the Mother City has something for every type of child.
Two Oceans Aquarium
The southern tip of Africa is the meeting place of two mighty oceans, the Indian and the Atlantic, and the Two Oceans Aquarium is well-placed to showcase the incredible marine diversity of this unique region. With more than 3000 living sea creatures; including sharks, tropical fish, turtles and penguins, its guaranteed you and your children will love the world class aquarium at the V&A Waterfront. The Afrisam Children's Play Centre provides children with excitement and energy, as they are educated and entertained through puppet shows and artwork.
The Aquarium is open 365 days a year, from 9:30am until 8:00pm. Ticket office prices start at R112 for adults, R87 for Children 14 to 17 years old, R55 for Children 4 to 13 years old, and children under 4 years old go free of charge. The Aquarium also has a knack for hosting children's birthday parties and there's a real life Nemo experience which has to be seen to be believed!
Telephone: +27 (0)21 418 3823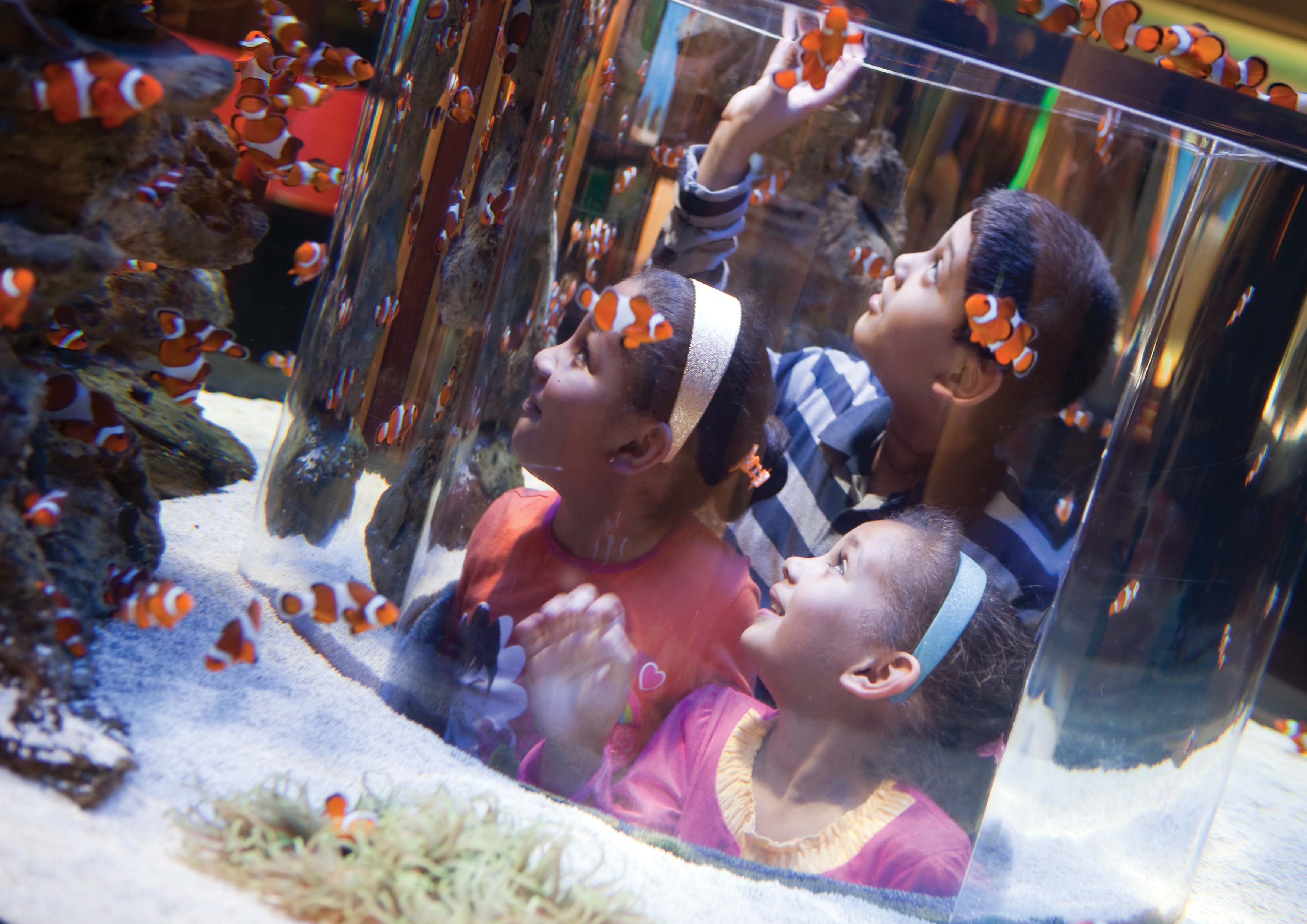 Photo: Ian Berrill, courtesy Two Oceans Aquarium
Ratanga Junction
This theme park in Century City, Cape Town boasts more than 30 attractions including 23 rides that are suitable for young children. Get soaked on Monkey Falls then freak out on the infamous Cobra rollercoaster. It is recommended to arrive early (particularly in high season July and December) to avoid long lines.
The General Park Operating times are 10am to 5pm. However, the park's operating schedule is subject to change on days when there is a private function. Please call the park or check the website to confirm dates.
Prices are height dependent. Adventure Rider Tickets are R162 for over 1.3m, Mini Adventure Rider Tickets are R80 if under 1.3m. There is also the option of the Fun Pass for Non Riders for R55. This includes entry into the park and access to all live entertainment.
Ratanga Info Line: (021) 550 8504
Table Mountain Cableway
The main attraction in Cape Town and a must for visitors of all ages. After 40 years in the making, the first version of the Table Mountain Aerial Cableway was finally completed in 1929. The 1067m ascension gives you a 360-degree view of Cape Town. A one way journey takes just minutes to complete and your your child will never forget the sensation of travelling to the top of this iconic global landmark.
Prices are based on one way and return trips. An adult return ticket is R205 and one way is R105. A Child Ticket (between the age of 4 and 17) return is R100 and a one way is R53. Children under 4 travel free!
Weather Line: (021) 424 8181
Twitter
: For the latest on "
What's it like at the top?
" follow the Table Mountain Cableway on Twitter
@TableMountainCa
This information was relevant at the time of publication. While every effort is made to keep information as fresh as possible, Travelstart takes no responsibility for any of the information being out of date or incorrectly noted.
---
Share the news