Explore the Winelands on the Franschhoek Wine Tram
Taking you across scenic landscapes dotted with vineyards, farms and meadows, the Franschhoek Wine Tram offers a rewarding day out in the heart of the Cape Winelands. This historic wine route is tucked away between Stellenbosch and Paarl, featuring a number of estates that date back centuries.
There are few better ways to explore the beautiful Franschhoek Valley than hopping onto an open-sided tram for an unforgettable guided tour. Ideal for all ages, this tour is equal parts relaxing, educational, adventurous and fascinating.
Keep reading to find out more about the newly launched tram route that traverses the Franschhoek Valley, and discover what else you can expect to see along the way.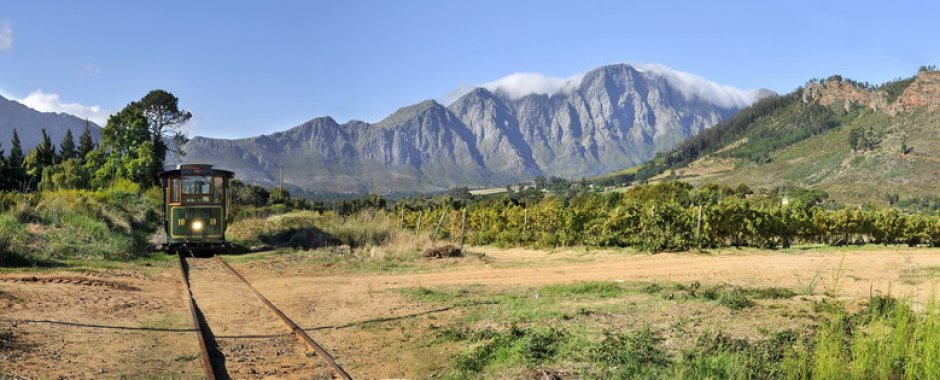 Wine Tram Tour Details – Tickets, Route and Times
The Wine Tram ticket office is situated in the town centre of Franschhoek, and this is where all tours depart and end. Trams run every 40 minutes between 10h00 and 17h00, every day of the week aside from major public holidays.
Tickets are surprisingly affordable – R150 for adults (which includes free tastings at Rickety Bridge and Dieu Donne as well as a welcome drink at Grande Provence); R75 for children between five and 17 years and free for children between one and four years.
Modelled on the 1890 Brill Trams, this old-fashioned locomotive works on a hop-on/hop-off system, which means that you can get off at any stop to explore further or grab some lunch. Stops along the route include the following:
Huguenot Museum – here you can learn more about Franschhoek's rich history.
Haute Cabrière – home to Pierre Jourdan MCC and other outstanding wines.
Dieu Donnè – take a stop to enjoy a delicious lunch at this classic Winelands restaurant.
Chamonix – producers of white, red and sparkling fine wine varietals.
Rickety Bridge - 18th Century winery known for its award winning wines, long history and spectacular surrounds.
Grande Provence – one of the top 100 wine estates worldwide, with a five-star rating and a 300 year old heritage.
The tour changes a bit on Sundays – as the Huguenot Museum is not open, this stop is excluded from the route. The first tram of the day at 10h00 does not stop at Haute Cabrière either on Sundays, but trams from 10h40 do stop here.
For more information on tram tickets and other info, email
info@winetram.co.za
, call the ticket office on
+27 82 903 5466
or stop past the office on
Bijoux Square at 60 Huguenot Road
.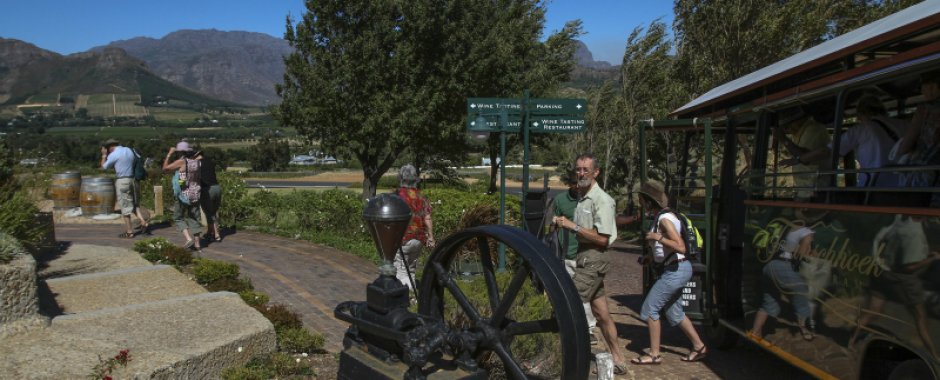 Who Will Enjoy the Franshhoek Wine Tram Route?
What makes this tour a very valuable addition to the Wine Route and its list of 'must-dos' is that it caters to just about everyone. The hop-on approach is great for parents with kids, without the hassle of staying put for the entire tour (even when little ones begin to get tired). Seniors can enjoy the tour with family, friends or partners without having to worry about driving or long walks in the hot summer weather. Affordable tickets meanwhile make this something that can easily be worked into your budget without breaking the bank.
Even if you are not a big wine drinker, there is still much to see and do along the tram route and within Franschhoek too. Experience the five-star dining that has put the town on the culinary map, enthuse at the
Franschhoek Motor Museum
, admire the Cape Huguenot style homesteads, relax under the shade of ancient Oak trees or simply sit back and take in the views that surround you at every turn.
For visitors to South Africa's Fairest Cape, no visit would be complete without a tour on the Franschhoek Wine Tram – try the "Vine Line" yourself and see what you think!
Enjoy the spoils of Cape Town with
budget flights
from Travelstart South Africa.
---
Share the news