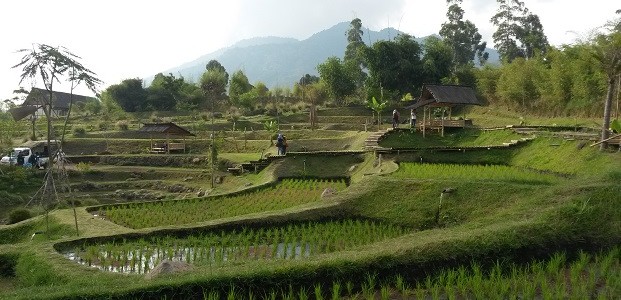 When you daydream about a tropical escape in Asia, what do you think of? Taking long naps under palm trees on the white sands of Nusa Dua beach in Bali; sipping chilled coconut juice among floating boats in Damnoen Saduak floating market in Bangkok; or stretching your limbs to Sun Salutation yoga with a view of the Taj Mahal?
Bandung, the capital of West Java province in Indonesia, is the lesser visited cousin of Bali. I have to admit, I had never even heard of this exotic city before I flew there with Singapore Airlines. At first glance, I was intrigued by its nickname – Parijs van Java, or the Paris of Java. When the Dutch East India government colonized Indonesia in the eighteenth century, they sought out high altitude grounds to set up a defense fort. The settlers' eyes widened as they climbed volcanic peaks, only to discover a hidden paradise at the foot of the river basin.  Anything and everything grew in the rich volcanic soil, and it wasn't long before tea plantations sprung up around the mountains like mushrooms after a spring shower.  At an elevation of 768 metres above sea level, Bandung is blessed with a cool highland climate year-round.
True to its namesake, today's Bandung is a vibrant city blossoming with romance! You can visit live volcanoes with bubbling crater lakes, cascading rice paddies or lush green tea plantations all within two hours' drive from downtown.
Tangkuban Perahu Volcano – the "Upsidedown Boat"
With this active volcano's distinct flat-peak shape, locals have affectionately labelled it the "upsidedown boat." On a clear day, Tangkuban Perahu can be seen from the city to the north – and it reminded me of Table Mountain in Cape Town as we snaked up the mountain towards "Kawah Ratu" or Queens Crater – a smoking, lava filled crater that's straight out of Lord of the Rings.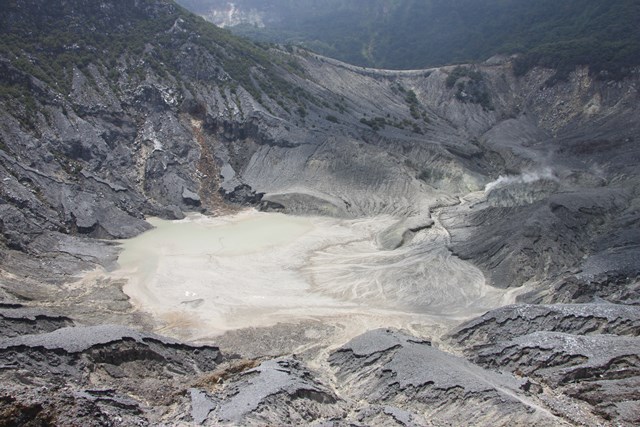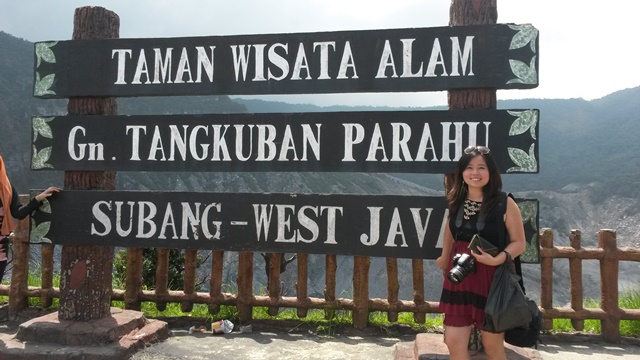 From my travels, I have learned that any majestic force of nature is always coupled with legend. After deploying my Charade-skills with local guides (without much success), Tiara came to my rescue and shared the volcano's legend:
At the crater, the local community has built a corridor of reed-covered huts, ready to quench your thirst and satiate your hunger. Snack on crispy battered ubi (sweet potato) or sale pisang (sliced plantain) with Kopi Bandrek, a richly spiced and ginger-infused coffee. Among the stalls, you will discover local souvenirs like the Angklung – a traditional musical instrument made of bamboo, Wayang Golek – Sundanese wood puppet, crocodile skin bags and many more. This is a good time to practice your haggling skills too!
After stuffing ourselves with delicious snacks, it was time to get some exercise. A refreshing 30 minute trek through the forest led us to Kawah Domas Crater which is famous for its volcanic pools and springs. As we approached Domas, I could hear distant rumbling and feel the heat rising. There are several sulphur pools of varying temperatures, from warm mud baths to hot pools, which are known to have therapeutic results for eczema and other skin conditions. A nearby shop even sells raw eggs; hoisted by a netted spoon, you can drop them into the spring to boil. I could have easily spent the day in a mud bath, and learned that Bandung boasts several luxury hot spring resorts – definitely something to consider if you have more time in the region.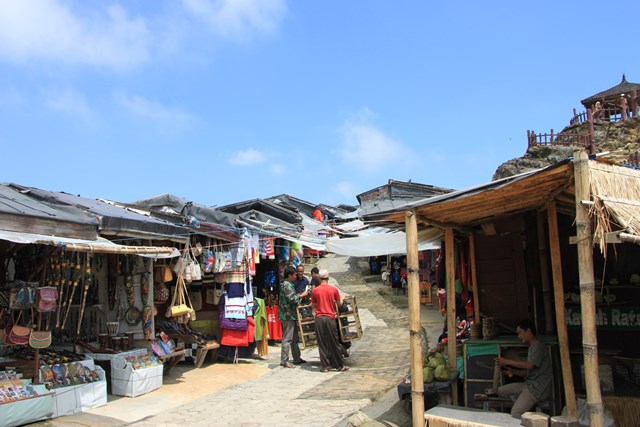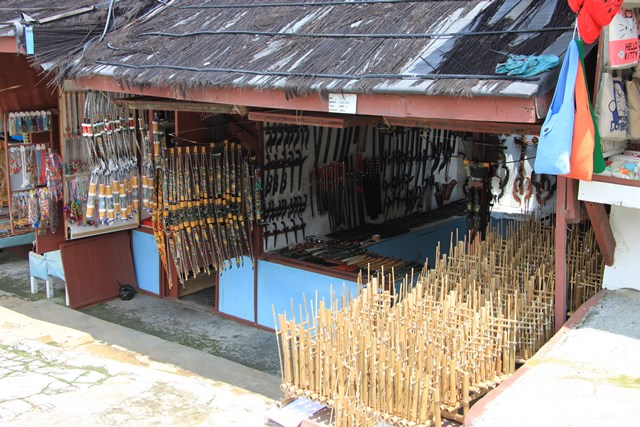 If you are squeezed for time and can only afford a day in the mountains, you should make a stop at Dusun Bambu. This 15-hectare bamboo conservatory is a sustainable eco-resort with a vision to harmonize nature and traditional Sundanese culture. It took the community 6 years to restore the area, transforming previously barren farmland into a tropical sanctuary with over 100 000 trees. The view from the main Cafe Burangrang overlooks the Burangrang Mountains, with beautiful interior décor made from bamboos grown on-site. A retreat from the rat race for weekend warriors, and a fitting rest stop before returning to the hustle of Bandung city.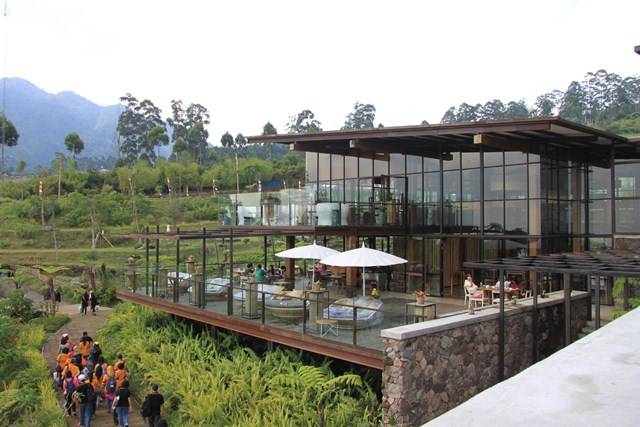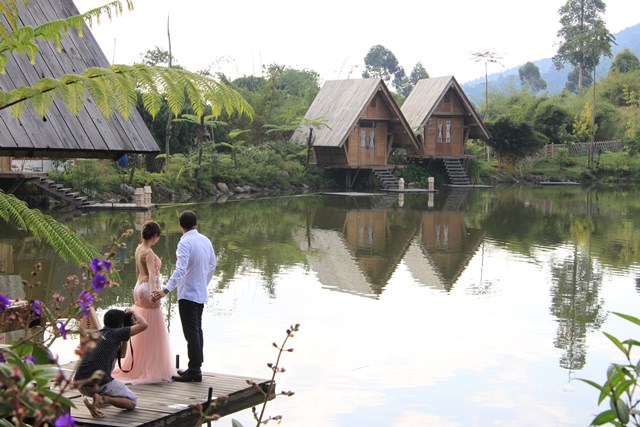 Bandung – A foodie's retreat
"If you really want to make a friend, go to someone's house and eat with him… the people who give you their food give you their heart." – Cesar Chavez
It can be frustrating to travel to a foreign land, where the locals speak minimal English and you struggle to find your way around the city. But once you have overcome the initial discomfort, you begin to experience the world through your senses – the taste of spices dancing on the tip of your tongue, the whiff of herbs in the air, the distant honking of motorcycles weaving through narrow lanes, the cool touch of bamboo mats at your feet, and the explosion of colour in every corner. For me, the best way to soak up a new city is through my taste buds, and I simply love the bold flavours of Indonesian cuisine!
With over 300 ethnic groups, Indonesia is a diverse melting pot of flavours influenced by Chinese, European, Middle Eastern, and Indian culture. Nasi or rice is the staple food – but even this humble ingredient comes in many forms: Nasi Timbel (rice wrapped in banana leaf), Nasi Goreng (fried rice), Nasi Campur (mix of rice and fried noodles), Nasi Padang (Pandang-style steamed rice) and many more versions thereof. Bandung is especially known for its bustling street food scene with roadside stalls around every corner, serving up simple dishes made from tried and tested family recipes. Tiara shares with me that you are never more than a 100-yards away from food in the city!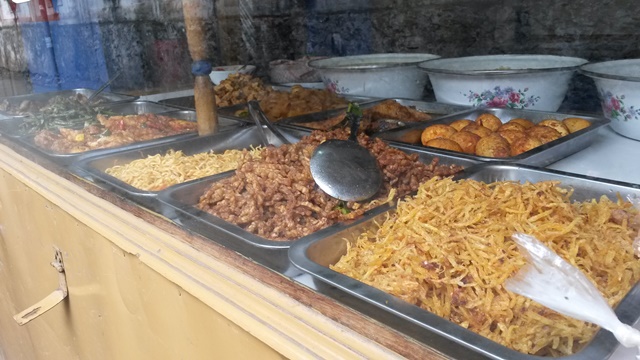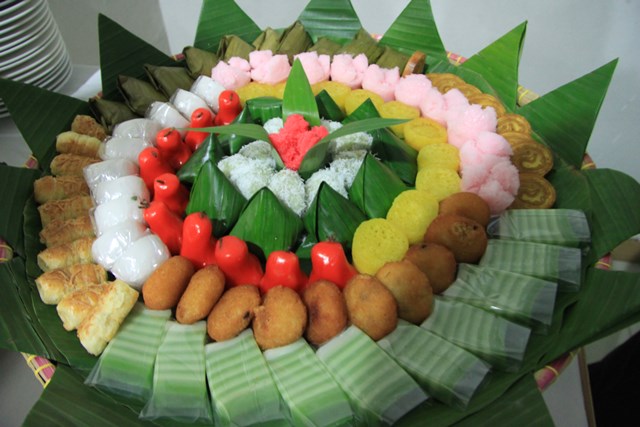 "If the streets are arteries, we are the red blood cells, feeding the hungry city" – a street food seller
Cautious travellers need not fear – you can sample Indonesia's culinary delights from the comfort of your hotel. We stayed at the Sheraton Bandung Hotel & Towers, where Chef Severin Huerlimann has just joined the resort as the new Culinary Director. Severin was trained in Switzerland, and has cooked in Australia, UK, Maldives, Malaysia, and China. When I met him, Severin had been in Bandung for less than a month. He has already begun to interpret traditional Indonesian cuisine in new ways – the Karedok salad is one of his signature dishes.
Karedok is a Sundanese dish – a salad made with raw cucumbers, bean sprouts, cabbage, legumes, Thai basil, and eggplants covered in peanut sauce. The secret ingredient to ensure you are eating an authentic Karedok? Fresh, hand-crushed peanut sauce made on-demand in front of you.  Alternatively, feast on Severin's selection of international cuisine including sushi, crepes, roast leg of ham and much more!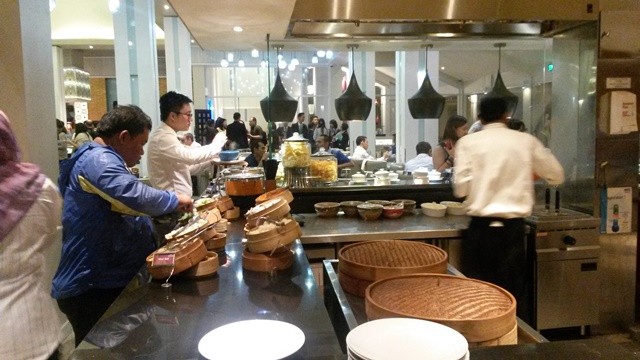 Exploring Bandung, Indonesia has taken me to the height of a smoke-puffing volcano, a serene retreat in a bamboo conservatory, and a sensory adventure through the streets of the city's hungriest districts. It is a gem hidden off the beaten-path, waiting to be discovered by curious travellers. So, as you stretch out on the couch dreaming up your next tropical escape, consider an adventure to the Paris of Java … you will not be disappointed.
---
Lisa's useful Bahasa (BH) / Sundanese (S) phrases
What does it cost/how much is it? = Berapa harganya? (BH), Ieu téh sabaraha? (S)
What is it? = Apa ini?
Expensive = Mahal (BH), Awis (S)
I don't want… = Saya tidak mau
No, thank you = Tidak, terima kasih (BH), No, hatur nuhun (S)
Please (when asking for help/bargaining) = Tolong (BH), Punten (S)