[Updated July 2020]
South Africa's friendliest city is also its most underrated. Port Elizabeth is a city on the sea with little to no traffic, great undercover restaurants, fresh sea air and easy access to incredible wildlife. In no particular order, here are our top budget-friendly things to do in Port Elizabeth and plenty of reasons to get up, out and exploring this special city.
1. The Goodnight Market
On the last Thursday of every month, head over to the Goodnight Market for a gourmet feast of artisanal goods. The market brings together the best of Port Elizabeth's unique food venues, so you'll be sure to find something for the entire family.
2. Hip Stanley Street
The undisputed king of street cool, Stanley Street is Port Elizabeth's answer to Jozi's Maboneng, Durban's Rivertown Precinct and Cape Town's Bree Street. Choose from a variety of excellent restaurants. Set in Richmond, one of Port Elizabeth's oldest suburbs, there is a friendly atmosphere with restaurant tables spilling out onto the sidewalk and fairy lights in the trees.
3. The wreck of the Sacramento
Visit the cannon of the wreck of the Sacramento and relive a piece of PE's swashbuckling history. The Portuguese warship, The Sacramento, ran aground here at Schoenmakerskop outside Port Elizabeth on 30 June 1647. The 72 survivors attempted a perilous journey to a Mozambican port. Hire a guide for the day or go it alone with a copy of Guns of Sacramento by David and Geoffrey Allen. Entrance is free and there are wonderful coastal trails to do between Schoenmakerskop and Sardinia Bay.
4. Fresh pastries at Grass Roof Farm
This farm stall/patisserie/restaurant with literal grass growing on the roof and an array of delectable breakfast, lunch and tea options will win over your heart and your stomach. Opening times for the restaurant and farm stall is 08:00-15:00.
5. Cheer at Nelson Mandela Stadium
We bet you can't wait to be in those stands again cheering on your team. Watch South African soccer clubs battle it out in this 46,000-seater, five-tier stadium. The stadium is home ground to the EP Kings, Southern Kings and Chippa United and also hosts Bafana Bafana and the Springboks. Your NMB pass entitles you to a free stadium tour, prior booking required. Contact the stadium to book and request the NMB Pass special.
6. Free tour of the Volkswagen AutoPavilion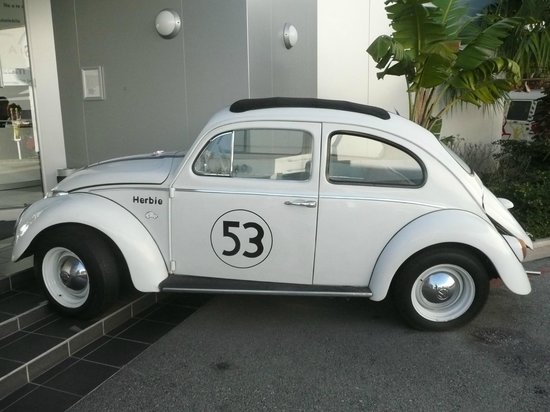 Car lovers will be in heaven on a pre-booked tour at the Volkswagen Factory in Uitenhage. You'll encounter the oldest kombi in South Africa, meet Herbie and see a car sliced in half by a laser! Enjoy a free tour of the AutoPavillion, which is the only automobile discovery centre on the continent and only the fifth worldwide. The NMB pass makes this one of the free things to do in Port Elizabeth!
Please note the AutoPavilion is temporarily closed.
7. Rhinos at Kragga Kamma
Just a short drive from the city is Kragga Kamma, a haven for free-roaming white rhino, buffalo, cheetah, giraffe, zebra, nyala, bontebok and lechwe. It's possible to take a reasonably-priced game drive or do a self-drive. Even better, this is one of the free things to do in Port Elizabeth with your NMB pass! Kids under three years get free entry.
8. Visit the Algoasaurus at Bayworld
The bones of the Algoasaurus, a unique dinosaur to the Nelson Mandela Bay Area related to the Brontosaurus, were discovered near Despatch in 1903. The Port Elizabeth Brick and Tile Company was quarrying for brick-making materials when the brickmakers stumbled across the bones. Unfortunately, they didn't realise what they'd found and ground up some of the bones for bricks. Luckily, quite a few remained which enabled the archaeologist Robert Broom to construct a likeness of the dinosaur.
The museum is the third oldest of its kind in South Africa. Other interesting exhibits include a skeleton of the last southern right whale harpooned in the bay, and a replica of the Dias Cross. With your NMB pass, you get free entrance to Bayworld.
Kids under three years get free entry.
9. Visit the original Vovo Telo
South Africans all over the country have fallen in love with the fresh bread and pastries at Vovo Telo. It all started in Raleigh Street, Richmond Hill, with wafts of freshly-baked artisanal bread drawing hungry customers in. Inspired by an experience in Vovo Telo, a hotel in Madagascar, this bakery has become a series of popular slow-food restaurants. Choose from fresh ciabatta, sourdough, coconut loaf, brioche, rustic and rye – all available to take away. The coffee comes highly recommended, too!
10. Explore Van Staden's Flower Reserve for free
40 Kilometres out of PE, Van Staden's Flower Reserve protects rare and endemic plants. There is no entry fee. While there, be sure to visit the traditional Xhosa "umzi" (homestead) and learn about traditional Xhosa culture. There are various walking trails and a 'flower house' as you walk in.
11. Spot the Big 7 at Addo
Where else in the world can you see the big five plus the southern right whale and great white shark? This wide-spanning reserve also boasts the best elephant viewing in the country. If you are a frequent visitor to San Parks and have a wildcard, you'll have free entry. Your NMB pass makes this one of the free things to do in Port Elizabeth for one day.
12. Donkin Lighthouse for city views
There are awesome views of the city from the top of this lighthouse in the Donkin Reserve, which now serves as a tourist office. Built in 1961, it's over 150 years old. The reserve also includes a pyramid-shaped monument. Not only will you get great views of the city, but also excellent photo opportunities!
13. Grillers Diner
This cosy American-style diner is a great place to get together with friends over milkshakes and club grillers. Expect full-on nostalgia with all the regular suspects like footlongs, big dawgs, toasties, burgers and ribs.
14. South End Museum
The museum, run by volunteers, commemorates the tragic destruction of the once diverse South End community as a result of Apartheid. The floor of the museum traces the streets as they used to be and pays homage to broken lives and a ruptured community. This is one of the free things to do in Port Elizabeth with no entrance fee, but donations are encouraged for the maintenance of the museum.
15. Hobie Beach
Blue flag status belongs to the Kings and Humewood beaches, however, Hobie Beach is a great spot to launch a boat, play an invigorating game of volleyball, wind surf, swim or bask in some sun. The small rock pools are also interesting to explore, especially for kids.
16. Shakespeare in the Park
Celebrated playwright Athol Fugard's hometown has a full schedule of cultural activities on offer. In the summer months, you can attend open-air Shakespearean productions at the Manville Theatre in St George's Park. Find out about forthcoming events by calling the head office for Nelson Mandela Bay Tourism on 041 582 2575.
17. Summerstrand Boardwalk
How many cities in the world have this many blue flag beaches a stone's throw from the hum of urban life? Enjoy one of the relaxing things to do in Port Elizabeth: a scenic stroll along the boardwalk. Summerstrand is sure to impress.
18. Ginger
Unstuffy fine dining with a sweeping view of the Indian Ocean. Great service and a visual and gastronomic feast, this is one of the best restaurants in the city with outside and inside seating options. This is Michelin chef Jonathan Hodder's pièce de résistance. Their cocktail menu is a mixologist's dream.
19. Mellas Dim-Sum and Noodle Bar
The rest of South Africa is only now figuring out what locals knew all along – Port Elizabeth has one of the most enticing and diverse foodie scenes in the country. For fresh, authentic dim sum, head to Mellas.
20. Pearson St George's Park Conservatory
Known as the oldest park in Port Elizabeth, St George's Park has the second-oldest cricket club in South Africa, which has hosted countless test matches to this day. The conservatory was opened on 12 September 1882 and is an exquisite example of Victorian architecture. It has been preserved to this day despite threats of demolition, and still hosts interesting hot-house flowers and orchids when they are in season. Pupils from St George's Prep school still dress up for their annual Victorian tea and walk in the park.
21. Do the Hobie Beach park run every Saturday
Get the blood pumping, air in your lungs and take part in PE's favourite Saturday morning activity. Every Saturday morning at 08:00, hundreds of runners from the community come together to enjoy the city, sun and sea views. It's one of the free things to do in Port Elizabeth! Just register online before your first run.
Please note: All Parkrun events are currently suspended throughout the country
22. Visit the old Library
This beautiful Victorian Gothic building is the only historic building in South Africa built as a Public Library which still operates as a public library today. Easy on the eyes on the outside, spend a thoughtful afternoon browsing the collection inside.
23. Bridge Street Brewery for a cold one
Not keen on the beer tour? Visit this brewery any time for the excellent thin-based pizzas, burgers and live music
24. Penguins at SANCCOB
This is definitely one of the most memorable things to do in Port Elizabeth! Visit these wonderful birds in tuxedos at the SANCCOB marine bird rehabilitation centre situated in the Cape Recife Reserve. Visitors can visit the hospital to learn more about caring for the injured birds. Visitors to SANCCOB are exempt from the entrance fee to Cape Recife Nature Reserve.
25. Cape Recife Reserve and Lighthouse
You can do the 9-kilometre walk around the reserve taking in unspoiled beaches, wildflowers, and you might even spot some whales. The lighthouse is also a fascinating location in the reserve. To enter the reserve by car, you need to buy a permit at the entrance to Pine Lodge Holiday Resort. Alternatively, you could park outside, and enter the reserve on foot.
Contact the Pine Lodge Holiday Resort for more information.
26. Africa's Longest Double Zipline
This is the longest dual zipline experience in Africa and one of the most fun things to do in Port Elizabeth! For safety purposes, they have an automated stopping system so that you can chill out and take it all in without worrying about slowing down. NMB pass holders will receive a free zipline experience. When you call to make a booking, remember to ask for the NMB pass special.
27. Shark Rock Pier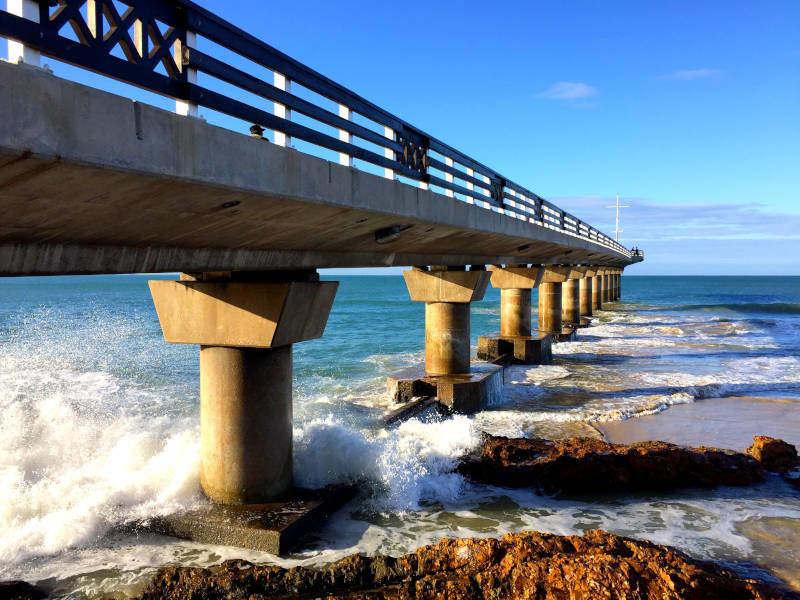 The only pier in the city, iconic shark rock pier stretches out languorously into the bay. It's the best place to watch the sun dip below the horizon, capture that perfect photo, and the views of the city and the bay are remarkable. Beautiful PE is one of the best-kept secrets in South Africa.
Also read:
10 Reasons why Port Elizabeth is one of the coolest cities
Good to know:
It is well worth buying a Nelson Mandela Bay Pass, which offers many free activities and discounts.
1-day pass: R400-R450
2-day pass: R450-R550
3-day pass: R575-R650
7-day pass: R500-R800
You can order your pass online.
---
There are so many interesting things to do in Port Elizabeth. we're sure we've left out a few favourites – let us know your PE must-do's in the comments below.
While we might not get you to PE for under R150, you can take advantage of our flights to PE.
Sign up for our newsletter for more travel tips and discounts!
Many thanks to Tim Abel for the inside info.