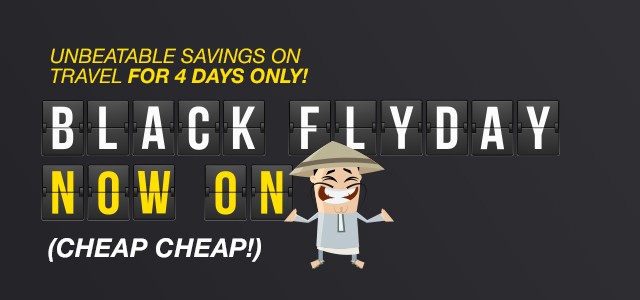 Black Flyday 2017 Coming Soon! Click here to keep an eye on this year's crazy deals.
IN A WORLD of scarce travel deals and feeble currencies, this Friday one travel agency will rise above all others by helping the masses with catastrophically deep discounts!
Featuring an all-star cast which sees the return of Virgin Atlantic, Mango Airlines, Qatar Airways, Airlink, Turkish Airlines, FlySafair, Emirates and more, BLACK FLYDAY will break new ground in low prices on international and domestic travel.
Watch the Trailer
---
Now showing on a browser near you!
BLACK FLYDAY Coming Soon! – Friday, 24 November 2017
Visit Travelstart.co.za for more.
---

Travelstart's Production team says …
Something fly is bubbling in the depths of Travelstart's booking engine this summer – Emma, Line Producer

We're taking the Black Friday concept to even greater heights in 2015 with BLACK FLYDAY – Mark, Spark

Expect knockout deals and deep discounts on Travelstart like you've never seen before – Marcelle, Chaperone

If there ever was a time to book travel this year, starting Friday will be it – Robyn, Special Effects

Come this Friday, 27 November 4 days of flight deals begin – be ready for blockbuster deals only on Travelstart – Haresh, Key Grip
Be a mate …
… Do what it takes to secure your #BlackFlydayTS deal then share this page with your friends and let them know BLACK FLYDAY is happening using #BlackFlydayTS. Trust us, they will appreciate the heads up.
BLACK FLYDAY starts this Friday, 27 November and runs until Monday, 30 November at 3pm. Take advantage of bumper deals and slashed prices on Travelstart.
It's been a long year and you owe it to yourself to splurge on international and domestic travel specials; some of which have been discounted by up to 70%!
Tune into the Black Flyday page for rolling deals now and yell #BlackFlydayTS from the social rooftops!
Black Flyday > Black Friday
Black Flyday is our take on Black Friday – the Friday following Thanksgiving Thursday which is widely known as the biggest ecommerce shopping day of the year. Historically, Black Friday was the day that retailers made a profit; also known as going is into the 'black' instead of deficit red. Today, Black Friday symbolizes the official start of the Christmas shopping season and is often the most anticipated shopping day of the year.
For shoppers Black Friday has come to symbolise the most mouthwatering deals of the year.