Fly to Victoria Falls, Zimbabwe
Book cheap regional fares from Johannesburg to Victoria Falls starting from R3,022. Enjoy sunset cruises on the Zambezi River, bungee jumping, zip lining and an array of outdoor activities. Subject to seat availability. Selected departure dates
Set on the border between Zimbabwe and Zambia is a place where the smoke thunders. Known to many locals by its traditional name Mosi-Oa-Tunya (the smoke that thunders), you're probably more acquainted with its Western name – Victoria Falls or Vic Falls.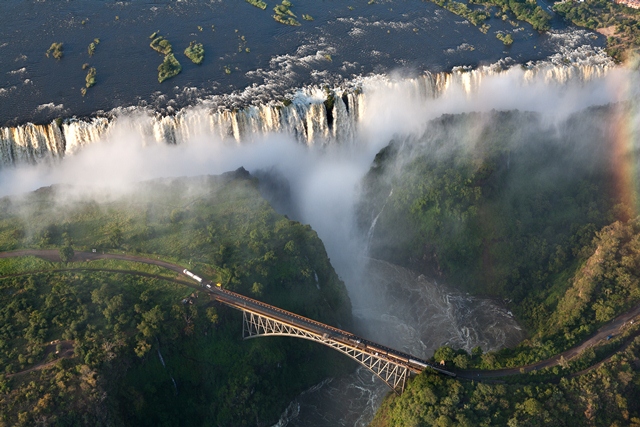 Long attracting visitors from all corners of the world, Vic Falls delights as a destination for those seeking anything from the extreme to simply getting back to nature. Mountains of water explode into the cavernous depths of the mighty Zambezi River below and whether you're looking to jump off the bridge with nothing but bungee cords attached, or indulge in a relaxing sunset cruise, Travelstart has you covered when it comes to cheap flights to Vic Falls from South Africa.
Know before you go – check out our Top 10 activity list for Vic Falls.
With the falls being just a 1 hour 45 minute flight away from Johannesburg's OR Tambo Airport, this UNESCO World Heritage Site is practically in your backyard if you're flying from South Africa.
Airlines flying to Vic Falls from South Africa
The following airlines offer direct flights to Vic Falls (VFA) from Johannesburg (JNB).
Flights to Vic Falls from other South African cities like Durban, Cape Town and Port Elizabeth are available to book on Travelstart. While these flights connect through Johannesburg, it's easy to search and compare prices on Victoria Falls flights using the online flight booking engine on this page.
Travel Advisory – Malaria & Yellow Fever
While the chances of contracting Malaria are low on a visit to Vic Falls, many recommend you take precautions before you leave. All of Zambia and Zimbabwe are considered to have risk of malaria. Although it's seasonal in some areas, it is present year round in the Zambezi Valley (which includes Victoria Falls).
The South African government is stringent about enforcing yellow fever requirements. They require a certificate of everyone who has been in a risk area - even if only an airport layover. They also require a certificate of anyone who has been in Zambia, which is not on the WHO risk list.
Yellow Fever immunization is not recommended in pregnancy. If you do not already have a certificate, you will need to get a medical waiver--South Africa will honor that. The waiver needs to come from an official YF vaccination center, with an official stamp.
Don't forget your raincoat. When you get too close to the falls you're likely to get soaked by its thunderous spray – it's a thrilling experience!
Visa: Vic Falls is Visa free for South African passport holders.
Victoria Falls Airport – VFA
Vic Falls Airport (code VFA) is located about 18km south of Victoria Falls town and falls on the Zimbabwe side of the border. Currently serving BA Comair and South African Airways for flights to Vic Falls from Johannesburg, the Victoria Falls Airport is expected to undergo an expansion in the near future which will see it equipped to handle larger aircraft and long haul flights from international hubs in America, Europe and Asia.
If you'd prefer to chat to a consultant about your Victoria Falls trip then call us now on 0861 878 278 (select Option 5) or pop an email to travelbar@travelstart.com.
Book your cheap flights to Vic Falls with Travelstart and experience a place like no other in Africa.
---
Share the news