Travelstarters Jolinda Bartlett (Stats) and Ryan Jury (Development) recently returned from a holiday to Greece and the Islands. They're both busy people but I managed to track them down in our ever expanding offices to hear a little bit about where Greece is at in the 2nd half of 2011.

Before you 'get us to the Greek' I'd like to know about Abu Dhabi. You guys stopped over in the Emirates' capital city on your way to Greece; would you recommend this to other travellers flying Etihad to Europe?
The stopover in Abu Dhabi is worthwhile. It's affordable and made easy by Etihad. South African passport holders will need a Visa which is easily obtained through the airline and the price depends on the exchange rate at the time. I got the transit Visa which I applied for online before I left, however the type of Visa depends on the length of your stay. You get sent an email confirmation that you take with when you leave South Africa and then collect your real Visa on arrival in Abu Dhabi.
Unfortunately Ryan was really sick when we left South Africa and was still feeling it when we got to Abu Dhabi, but that didn't stop me from exploring the city. Let me warn you it's hot. Easily the hottest place I've ever been in but they're well prepared for it, and it doesn't take anything away from what this contemporary city has to offer. We only spent 1 night in Abu Dhabi and stayed at the Centro Yas Island Hotel … close enough to the airport and nice and central, meaning I was next to world class shopping as well as Abu Dhabi's well known attraction Ferrari World which is fantastic for children and adults! You won't need to rent a car in Abu Dhabi as taxis are cheap and readily available.
It's worth mentioning that we were in Abu Dhabi during Ramadan meaning we weren't allowed to eat in public between sunrise and sunset – yes this also applies to tourists. Be aware of this and respect their culture and religion by restraining from public displays of affection in public and dressing conservatively.
What's Athens like?
Athens is a city steeped in history. Highlights included a visit to the Acropolis and Parthenon which overlooks the sprawling city. It's quite a strenuous walk up the steep steps from downtown Plaka (the part of Athens where we stayed) to the Acropolis but it's well worth it and takes about 20 minutes. The views of Athens from the top are spectacular and I'd definitely recommend going up at night too – the ruins are beautifully lit up and are open until 8pm. If you can, try visit the Acropolis when the weather is cooler and take water with you. You'll see much more than the Parthenon including lots of ancient theatres and other ruins. The Acropolis is surprisingly intact (for its age) and is something you have to do if you're in Athens.
Plaka, the area where the Acropolis is, is great for tourists and delights with markets, Greek restaurants and lots of trees. When it comes to Athens and Greece I wouldn't say they're shopping destinations.  You might find a few things (I got a nice pair of handmade leather shoes for €4.50) but most of it is real touristy curios. When you do shop in markets make sure you negotiate politely with sellers for the best price.
There are some dodgy parts of the city that you should avoid and be wary of people looking for a pickpocketing opportunity or attempting to scam you in one way or another. We never felt scared but the best advice is to avoid dark alleys and just practice the same cautious behaviour you would at home and you'll be fine. Omonia is an area close to Plaka that is known to be quite risky and not too safe for tourists.
Galaxidi
West of Athens (close to Delphi) is the town of Galaxidi and this was the highlight of our trip. Imagine a quaint,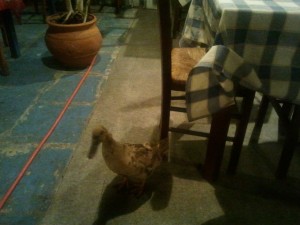 relaxed harbour town where everybody knows everybody and that is Galaxidi. Not many tourists go here and it's just so real and unspoilt; Ryan and I decided we could easily live here. The harbour is beautiful with nice restaurants and bars and there were even geese walking around in the one restaurant we went to. When you go to a restaurant in Galaxidi you'll normally find it's a family owned/managed business. The Dad will be farming the goods, Mom will be cooking up a storm in the kitchen and the daughter will be front of house waitressing and serving customers. In this particular restaurant they were out of lamb so I had Pork Souvlaki with green peppers and onion. I also had a mussel and tomato based dish with mozzarella cheese. Of course I tried the Baklava and a dessert unique to Galaxidi – a kind of almond dessert which was dense and delicious.
Another example of this unique and quaint dining style in Galaxidi  was the Albatross Restaurant. There were only 3 tables and the place is completely unassuming but the food was amazing – stuffed tomatoes and Dolmades (vine leaves stuffed with rice and a lemon based sauce) were delish!
Are the sufferings of the Greek economy evident in Athens and the nation in general?
You can see the repercussions of the financial crisis in Greece. The state of Greece's economy was particularly evident in the residential areas – many shops have closed and are looking somewhat dilapidated. The locals will talk about it and are very forthcoming about the crisis but they're honest about their disappointment with corruption in the Greek government.
The city works (public transport is affordable and reliable) but not in the sense of the rest of Europe which allows for flexibility in travel planning.
I guess one advantage is that it has become extremely cheap for travellers, even South Africans, and you get ridiculously good deals on accommodation and food. While the sufferings of the Greek economy are evident this has in no way affected service levels and the locals are really nice to tourists.
Give us a breakdown of the Greek Islands you visited?
Kefalonia (Ionian Islands)
Captain Corelli's Mandolin starring Nicolas Cage was filmed here – The Island is lush and beautiful because it receives a lot of rainfall and many of the beaches have Blue Flag status. When we were there (August/September 2011) the weather was mild. The island is really big and if you want to tour you will need to rent a car as public transport is slow and intermittent and taking a taxi is expensive. Rent a car on the island of Kefalonia or get it in Athens and take it over on the ferry.
We had amazing food here and it's all organic. Most of the restaurants are self-sufficient with their own vegetable garden and goats. The island is hilly making for magnificent views and great photo opportunities while the sea is calm, easily accessible and safe for swimming. Built in umbrellas and sun chairs are available and cost about 6 Euro a day for a set of 2.
Zakynthos
To me Zakynthos is the most beautiful place in the world and I could've spent our entire holiday here – think crystal clear ocean at a comfortable 'swimming pool' temperature. The locals are just so welcoming and the island is tourist friendly so there's no need to plan tours in advance; simply pick what you want to do when you get there and organise it from the island.
We went on a cruise around the island with idyllic stops along the way including Shipwreck Beach with its huge cliffs and small beach as well as the Blue Caves. These places are only accessible by boat and are magnificent for swimming. We also learned about the endangered sea turtles which are indigenous to the Ionian chain of islands. You can take boat tours to see the turtles and the locals are doing a lot to ensure this last remaining species are well protected.
A visit to Zakynthos town is definitely a must. It's a little harbour town with beautiful old churches, and shops.
We stayed at the unpretentious Callinica Hotel on Zakynthos which is highly recommended. On our last night they hosted a Greek evening with traditional food, singers, guitarists, pianists, and authentic Greek dancers – so much fun. There's a wine farm next door to the hotel where they produce their own wine.
Shopping is dirt cheap and while I'm not a souvenir fan I did like the olive oil based beauty products. We'd usually cater our own lunch – bread, ham, and tomatoes but it would come out looking like a fancy gourmet sandwich because their produce is so fresh. Everywhere you go you get Greek coffee but I didn't really like it as they don't filter it like we do. If you're brave enough, try some Ouzo. It's a liquorice flavoured Greek spirit, and you get it everywhere. Just get a small amount as it's high in alcohol with an intense taste but you can't go to Greece and not try it.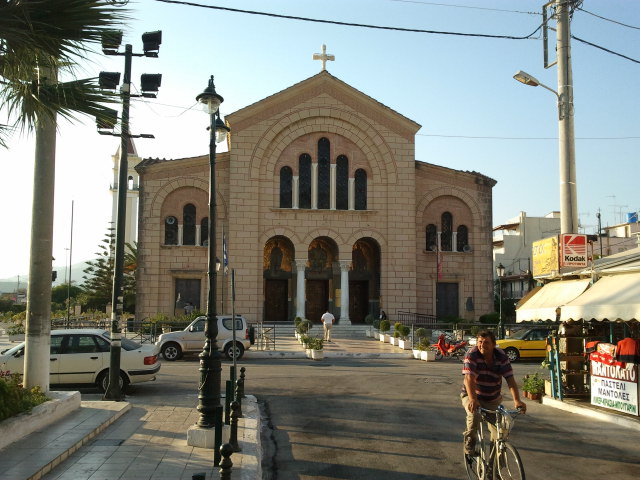 When to visit Greece?
Greece's climate is Mediterranean so it's mostly mild or hot. In my opinion the summer months (June-September) will always be the best time to visit Greece. We were there from the end of August through September and I think this was a good time to go as most of the tourists have left so things are cheaper and less crowded. The beginning of August is the European holidays so it's high season and really hot.
What currency did you take? Cash? Travel Wallet (Credit Card) or Travellers Cheques?
We took cash which ended up lasting us for the most of the holiday. I also used my credit card and there are facilities and ATM's everywhere. I found that taking cash helped me save on banking fees, but if you'd prefer to draw money once you're there then I recommend drawing quite a lot at a time so you forego lots of bank charges.
Most restaurants in Greece charge a small cover fee (up to 1 Euro) and that covers you for bread etc. however, not all restaurants charge this fee. It's a Greek tradition (especially away from Athens) that when you finish your food they will automatically bring you more so perhaps say something to your waitron if you've had enough.
Wine and bottled water is cheap while sodas and imported chocolates are expensive. Anything that isn't locally produced is generally more expensive – My motto for Greece is – eat local, drink local!
How was the Etihad Airways experience?
You know how airline food doesn't normally provide much to write home about? Well I can confidently say that Etihad Airways strays from the norm in this regard with their fantastic inflight cuisine. You won't go hungry on an Etihad flight – the a la carte menu is a collection of scrumptious Arabian food and the service we received was brilliant – cabin crew are professional, super nice and approachable and smartly presented. Food is served with real knives and forks in Economy Class and was well above the standard of typical airline food.
There was a nice selection of wines onboard the aircraft and their in-flight entertainment (E-Box) has a variety of current movies, TV series including films and shows which haven't even come out in South Africa yet. The Economy Class seats were comfortable and the external cameras provide a live shot fed directly to your monitor as to what's going on outside the plane – we both thought this was a pretty cool feature.
Abu Dhabi International Airport is big but the there's help everywhere and the airport staff know their stuff and are willing to help – when in doubt ask someone and you'll save yourself a lot of hassle.
Was it a hassle getting a Greek Visa on a South African passport and how did you find the Greece Embassy?
Ryan travelled on his American passport so he didn't need a Visa for Greece but I had to apply for a Greek Schengen Visa as I'm a South African passport holder. I went to the Greek Embassy in Cape Town, the process was quick, queues were minimal and I had it within a week of applying. The Visa cost about €60 (about R670) and the cost of the Visa is determined by the exchange rate at the time of applying.
Travelstart Social Media Man Nick Paul went to Greece in 2009. Read more about his Big Fat Greek Visit.
Cyprus Holidays | Mykonos Revisited | New Acropolis Museum Opens