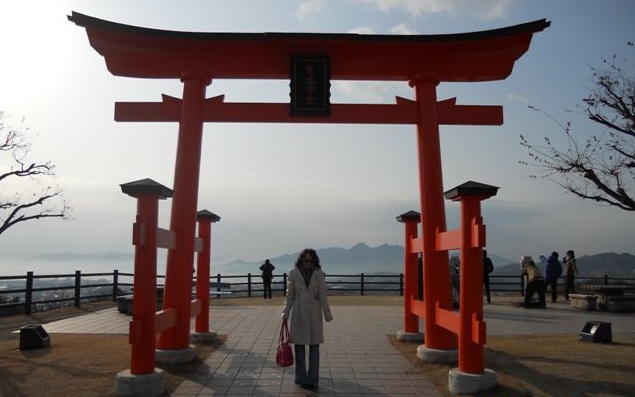 Welcome to the latest edition of 15 Minutes where we spend time with our globetrotting Travelstarters to bring you awesome up-to-the-minute travel tips on specific destinations.
Japan Travel Review
This week we chat to Travelstart's customer services team leader Masha Shubinsky and hear about her recent trip to Japan.
Where did you go in Japan?
I was in Japan for 3 weeks and spent most of my time in Fukuyama as this is where my boyfriend's parents live. I took day trips to Osaka, Hiroshima and Kyoto.
Is Japan safe for tourists?
This is one destination that I can say (with extreme confidence) is safe for tourists. For example, when people go into a convenience store to get something they'll happily leave their keys in the ignition with their car running.
Japan is a destination rich in culture and far-removed from the western influence in South Africa. What did you learn about Japanese culture?
Remember to remove your shoes when you enter someone's house, shrines and certain restaurants. In most cases slippers and a cabinet to store your shoes are provided. Oh, and a special message to females travelling to Japan – Avoid knee high boots as I spent a good part of my Japan trip taking my shoes on and off and boots are a definite hindrance.
Who did you fly with from South Africa to Japan?
We flew Qatar Airways from South Africa to Japan. The journey took us via Doha to Osaka in Japan and it's a long haul flight. It's about 8 hours from SA to Doha, then a 2 hour layover, then a further 8 ½ hours to Osaka. There's a 7 hour time difference between South Africa and Japan.
How was the Japanese shopping experience? Gadget overload or clothes shopping paradise?
The Japanese shopping experience is right up there with the best in the world. It's an absolute shopping mecca and you will stand in awe of their 'normal' shopping malls. Most shops only open at 10am but this is compensated for in them only closing at 11pm.
The quality of goods on offer is otherworldly and there's something for every taste. You'll notice how important appearance is to the Japanese as they are very fashion conscious. The service you get from shop clerks is impeccable. For example, if you're going to buy a TV then manage your time accordingly as the Japanese are thorough in their sales process. They give importance to your purchase and will run you through everything including warranties, the workings of the gadget etc. and this can take time.
Bear in mind that if you're travelling on a foreign currency the Japanese shopping experience is not cheap. Commodities are also expensive especially cheese, fruit and alcohol.
What's the weirdest food you ate in Japan?
The Octopus Dumpling sticks out as one of the worst things I ate. The correct name for it is Takoyaki and it's a runny dough with bits of octopus in it – so hard to swallow.
On the whole I loved the Japanese food especially the noodle dishes. The Sushi is the best in the world, however it's nothing like they serve it at home in South Africa. It's plain and there's no such thing as Wasabi Parcels or California Rolls. Mostly you'll have a choice of Maki, Nigiri, Sashimi and Tempura.
All Japanese food is served with traditional Green Tea. You'll learn to love this as it compliments meals brilliantly. Just don't put milk in your Green Tea! 'Slurping' your food and drinks, although considered rude in the West, is highly commendable in Japan. The practice of slurping your soup or Green Tea is a sign of appreciation so slurp away!
What are the top things to do in Japan?
The Onsen in Japan are a must. It's a hot spring water bath and you'll find them in most Japan hotels. However, for a more authentic Onsen experience look outside your hotel but remember they won't let you in if you're heavily tattooed.
A ride on the Shinkansen, also known as the Bullet Train, is something you should definitely make time for. The Shinkansen has a station in Fukuyama.
In Kyoto you can visit the Geishas. You can even dress up as a Geisha and they'll do your makeup for you. Just don't drink, eat or smoke when you're in your Geisha garb.
Your Japan trip isn't complete until you do some Karaoke. Karaoke is everywhere in Japan and you don't have to be shy. Pay by the hour for a Karaoke booth with a group of friends and choose from Japanese songs to international.
Anything our readers will want to avoid when visiting Japan?
Gambling is illegal in Japan so avoid being lured into any kind of casino or "game". Road regulations are strict so don't have a sip of alcohol if you intend driving.
How are the Japanese people?
The Japanese are all about respect for one another and visitors to their country – I've never come across a more accepting and accommodating nation. They're proud of their history as was evident when I visited the Hiroshima Memorial Peace Centre.
Did you need a Visa to travel to Japan?
I travelled to Japan on a South African passport and I needed a Visa to get there. The Japan Visa took about 3 days to get and the process was hardly stressful. I applied at the Japanese Consulate in Cape Town and the Visa cost R250. It's a single entry Visa and is valid for 3 months.
Thanks for spending 15 minutes with us Masha. It's been eye-opening hearing about your Japanese experience. Do you have any parting Japanese travel tips for our readers?
I had an amazing time in Japan. Remember that the Japanese will hold you in high regard and you will really feel like you have celebrity status when you're there. Try learning some Japanese greetings and phrases before you go and I promise this will enrich your trip even further. The Japanese will make sure you have a good impression of their country and its people and they'll go out of their way to make sure all your needs are catered for.
If you're interested in a holiday to Japan then contact Travelbar on 0861 878 278 (select option 5) or you can also browse the cheapest flights to Japan right now.
[boilerplate bytitle="text"]