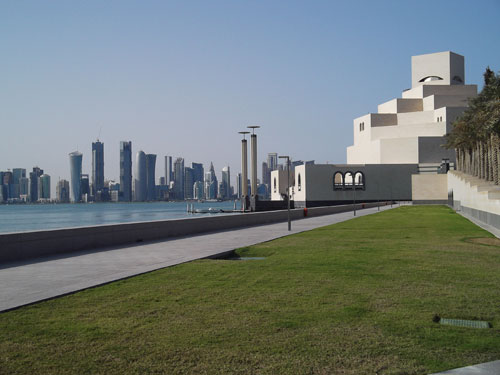 Travelstart's 'Minister of Finance' Athol Tyler recently popped into Doha for 4 days of R&R and Middle Eastern hospitality. Although Athol didn't spend only 15 minutes in Doha, his fleeting trip gave him a solid overview of what this emerging Arab powerhouse is all about.
Doha Travel Review
I sat down with Athol for coffee and this is what he told me about his Doha travels.
A lot of people seemed confused about the location of Doha. Where is Doha?
Not to be confused with Dubai, Doha is the capital of Qatar. Qatar is a separate country and is not part of the United Arab Emirates. The city of Doha lies on the east coast and is coasted by the Indian Ocean.
Did you need a Visa to get into Doha?
If you're travelling on a South African passport like I was then you will need a Visa for Doha. Thankfully it's easy to obtain a Doha Visa and mine was arranged by Qatar Airways.
What's Doha International Airport like if you've got a long layover there?
I flew business class with Qatar Airways and was given access to Doha Airport's Premier Terminal. I didn't get to see the economy class terminal but I think it's safe to say the airport facilities are excellent.
I'll let you in on a little secret. If you're a Qatar Airways passenger (any class) and you're in transit in Doha Airport for more than 8 hours and less than 24 then you're entitled to something called STPC. STPC stands for 'Stopover Paid by Carrier' and it entitles travellers to some comforts on long layovers. I'm sure it's subject to some terms and conditions specified by Qatar Airways but it's worth checking it out with your travel consultant.
You were in Doha last month (March 2011). What was the Doha weather like?
March is Doha's spring season and the weather was warm but didn't reach the intense, overpowering heat the Arab nation is known for. It cooled down significantly in the evenings and I took a jacket/jersey when I was outside.
Which Doha hotel did you stay in?
I stayed at the Oryx Rotana hotel in Doha. It's a modern, corporate hotel that's very close to the airport (less than 10 minutes). The 5 Star grading is complemented by its first-rate service and brilliant restaurants.
The one evening they had a jazz band. Interestingly enough it turned out the jazz band came from Cape Town.
Did you do any shopping?
I'm not much of a shopper but from what I saw there's definitely a thriving shopping network in Doha. There are modern shopping malls all over the city all stocking the branded and luxury goods.
One thing I wanted to do but never got round to was a visit to the famous Souq Waqif. Directly translated to "The Standing Market", it's renowned for selling traditional garments, spices, handcrafts, and souvenirs. Apparently it's a must and is located behind Doha's beachfront (known as the Corniche). Just remember when visiting souqs you're generally not expected to pay the initial asking price – bargaining is a way of life in the Middle East.
What touristy stuff did you get up to on your Doha travels?
The Doha attractions that stuck out for me were the dinner cruise on a traditional douw, a 4X4 trip in the desert and my personal favourite – a visit to the Museum of Islamic Art. There was art from all over the Islamic world including India and the Middle and Far East. A truly inspiring experience with fantastic views of the bay and corniche from the museum – I could've spent all day at the museum.
The city of Doha is an experience in itself and I had a great time just walking around. Apparently the Sheik's in Doha try to outdo each other by seeing who can build the most weird and wonderful buildings.
What can you tell us about the food?
There's a great variety of food in Doha. I ate at my hotel most of the time and dishes ranged from Middle Eastern cuisine like lamb, hummus and chickpeas to an assortment of Western cuisine.
How strict is the dress code in Doha?
The dress code in Doha is somewhat strict. Do your best to pay attention to Doha culture by not going out scantily dressed. Ladies shouldn't wear revealing tops and short skirts.
Is there anything tourists would want to avoid in Doha?
Alcohol is only available in certain hotels and restaurants. You're forbidden to bring alcohol into the country and this includes duty-free purchases. Gambling in Qatar is a no-no and I didn't see any casinos when I was there.
As with any foreign country there's loads of photo opportunities in Doha but be careful as some of the locals don't like being the focus of your camera lens and photo taking is not permitted near any military sites in Doha.
Drink only bottled water when you're there. It's available everywhere and its super cheap.
Although Doha isn't somewhere I'd go for a long-stay holiday I'd definitely recommend it a visit here or at least a stopover on your travels.
Thanks for your Doha Travel tips and the amazing photos Athol. We hope our readers will be inspired to visit Doha or at least stopover on their next travels.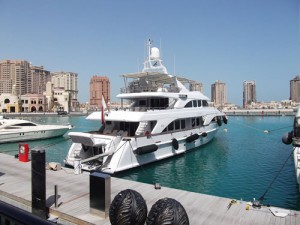 Cheap Flights to Doha
If you fancy travelling Doha then Travelstart can help you find cheap airline tickets to Doha now. As you can see from Athol's experience there's quite a bit you can accomplish in Doha in just a few days. So if you got some time free why not consider Doha for a quick trip. Search cheap airfares to Doha now.
[boilerplate bytitle="text"]