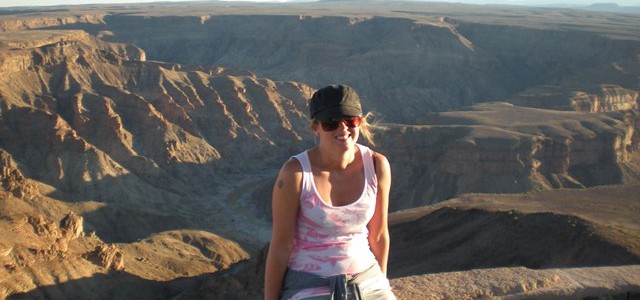 Travelstart travel consultant Marie Hjort took an extended Easter break to visit the rolling dunes and vast landscape of Namibia. For me Namibia is an interesting one. Although I've never been there, I've always been intrigued by what Namibia has to offer in terms of its sheer isolation and natural beauty. If you can appreciate the sparse beauty of the desert landscape then Namibia must be amazing but what if you prefer an exotic island destination or bustling, cosmopolitan cities. Let's hear what Marie has to say about her holiday in Namibia.
Thanks for chatting to us about your Namibia trip Marie. How did you find Namibia?
I loved Namibia and it far exceeded my expectations. I was really impressed with the beautiful scenery; perhaps it was even prettier because of all the rain lately which has made the desert a bit greener in some places. I also got to see the "real thing" – the Namib Desert with miles and miles of just nothing at all but sand… an awesome sight to see!
I know it sounds cheesy but I've never in my life experienced a more beautiful night sky than what I saw in the Namib Desert.
What can tourists do in Namibia?
I went on an overland tour to Namibia. On the way up to Namibia we did some canoeing in the Orange River – the longest river in South Africa and our last stop before entering Namibia. The Orange River is very scenic and it didn't take much effort to paddle because of the high water levels due to the recent rain and the strong current. While some people decided to have a swim I was quite happy in my canoe.
The hiking was a major highlight for me. I hiked along the Fish River Canyon which is the second largest canyon in the world after the Grand Canyon in the States. The Fish River Canyon is also one of the top tourist attractions in Namibia. If you've got enough time then get a permit so that you can hike one of the trails leading into the canyon.
In Swakopmund I did quad-biking in the sand dunes. I really recommend the quad-biking to everyone seeking a thrill in Namibia. It feels like you're on a rollercoaster going up and down the sand dunes. As they say in Namibia when it comes to quad-biking "adrenaline guaranteed".
We were lucky enough to spot a cute chameleon on the trip up and a rattlesnake which I decided to keep my distance from.
How did you get to Namibia?
I travelled with a group on an overland tour. We left the centre of Cape Town on an 'adventure truck' which took us all the way up to Swakopmund.
After the trip I flew back to Cape Town from Walvis Bay.
Did you need a Visa to go to Namibia?
I travelled on my Swedish passport so I didn't need a Visa for Namibia – just my valid passport. On a Swedish passport I'm able to stay in Namibia for up to 90 days sans Visa.
Namibia is also a Visa free destination for South Africans.
What is Swakopmund like?
Swakopmund was the last stop on my trip. It's a cute, small coastal town with a population of about 34 000 people and is known to be the adventure capital of Namibia. From here you can do all kinds of activities like sandboarding and skydiving.
If you're not in the mood for hair-raising activities then try out some dolphin watching but on the whole Swakopmund is a great place to base yourself if you're after adventure in Namibia.
Find cheap flights to Swakopmund now.
What was the weather like in April in Namibia?
Although April is the start of winter in Namibia it was still quite warm during the day – definitely warm enough for shorts and a t-shirt everyday. There were intermittent showers and storms so pack accordingly if you're visiting Namibia this time of year.
On the first night of our trip we were in the Cederberg Mountains. THAT was cold and the whole group felt it. Most of us had opted for cheap sleeping bags and this certainly didn't help when the temperature dropped to 2 degrees at night. Luckily the Namibian nights were just perfect – not too hot and not too cold.
What other activities/things can you recommend for the tourists in Namibia?
Quad-biking in Namibia is great for everyone and its fun for all ages. We had an older couple in our group that found it as exciting as the younger people.
Although I did not make it there myself, the Etosha National Park in Namibia's northwest region is apparently one of the best national parks in the world. I'll make sure I go there next time. If you're into hiking the trails are supposed to be fantastic for all levels.
Did you visit the famous Dunes ?
Dune 45! Yes I did climb up Dune 45 which is probably the most famous sand dune of them all. At 170 metres  high it's a must to walk up there to watch the sunset. I wasn't too lucky with the weather and it was stormy when we woke up at 4:30 in the morning to get to the dune on time.
The weather conditions made for a pretty rough walk up fighting a mean wind, but I made it in the end and it was well worth it. Although I'm sure the view could have been better with not quite as many evil clouds covering the sun. Still – a lot of fun!
Did you meet a Khoisan?
On our first day we got a good dose of culture, getting to know more about the Khoisan people. The Khoisan are descendants of the ancient hunter-gatherer San (bushmen) people, who were the earliest known original inhabitants of Southern Africa.
I got to see and how they live, and also how they make bracelets out of ostrich eggshells, how to start a fire plus a brief lesson in their own language the 'click' language – just don't ask me to say anything.
Thanks for giving us some great insight into what Namibia offers as a tourist destination Marie. You've convinced me to put Namibia on my travel bucket list and I'll definitely be looking into it as my next holiday destination. Find out more about visiting Namibia.
If you're reading this in South Africa then check Travelstart for cheap flights to Namibia. Travelstart can also help you with Namibian car rental and hotels in Namibia.
If reading this in Namibia then go to Travelstart Namibia to book flights online.