New App Makes Flight Bookings On SA's Busiest Air Route Easy
Travelstart Launches Flapp
To better serve passengers who commute between Johannesburg (O.R. Tambo and Lanseria Airport) and Cape Town, a new smartphone service allows travellers to book and pay for flights between the two cities in seconds.
For Immediate Release
Johannesburg, 9 June 2015 – Travelstart, the leading travel booking site, today announced the launch of a brand new app for Android and iOS. Flapp, dubbed the 'the two tap booking app', is available to download for free from the Google Play Store and Apple's App Store.
"Flapp heralds a new and easy way for passengers to book their commute between Johannesburg and Cape Town," said company spokesman Russell Jarvis. "As more carriers take off, the local airline industry is seeing a shift in power back into the hands of travellers. Passengers' purchasing behaviours have evolved and Flapp is a direct response to this evolution, offering a rewarding and niche tool for today's travellers."
The 2-hour skyway between Johannesburg and Cape Town is still one of the busiest routes in the world, and Flapp is designed to satisfy the individual needs of the specific group of travellers who fly this route regularly. By distilling all airline content into one, inclusive mobile app, Flapp offers customers a smooth and secure booking and payment system.
The app comes with some innovative features. "Real time fares from all airlines are the first thing users see on tapping the Flapp icon; results can be filtered by price or departure time. Same day bookings (up to 2 hours before a flight departs) are catered for, and passenger and credit card details can be saved for two-tap bookings. It's completely secure and makes the checkout process astonishingly fast." said Sergio Mello, Head of Innovation of Flapp's parent company Travelstart.
Booking patterns for the last year point to the significance of new technology such as Flapp. 43% of passengers who flew between Johannesburg and Cape Town (and vice versa) in the last year booked their flights less than a week before they departed, while more than 90% paid for their booking with a Credit Card. Flapp caters for these travellers by offering a 7 day window of fares bookable for the week ahead. This lightweight design reduces app load time and data costs on the users' end.
Flapp has already appeared at the top of Apple's local trending searches list. "Our aim is to simplify travellers' lives by providing the best possible user experience no matter the device or platform customers choose to engage us on."
Johannesburg / Cape Town passenger snapshot
| | |
| --- | --- |
| Total JNB/CPT passengers 2014 | 4 234 249 |
| Books flights | 43% book a week or less in advance |
| Payment | 90% pay with a Credit Card |
| One way vs. return | 33% book one way vs. 67% who book return |
Read more about the making of Flapp on Medium.
Download Flapp on the Play Store: https://play.google.com/store/apps/details?id=za.co.travelstart.flapp
Download Flapp on the App Store: https://itunes.apple.com/us/app/id957118897
###
Contact:
Email: press@flapp.co.za
Phone: 021 468 4306
Website: www.flapp.co.za
Facebook: www.facebook.com/flappapp
Twitter: www.twitter.com/flappapp
Flapp Screen Shot 1 - Android welcome screen (L) and iOS welcome screen (R)
Flapp Screen Shot 2 - How it looks on iOS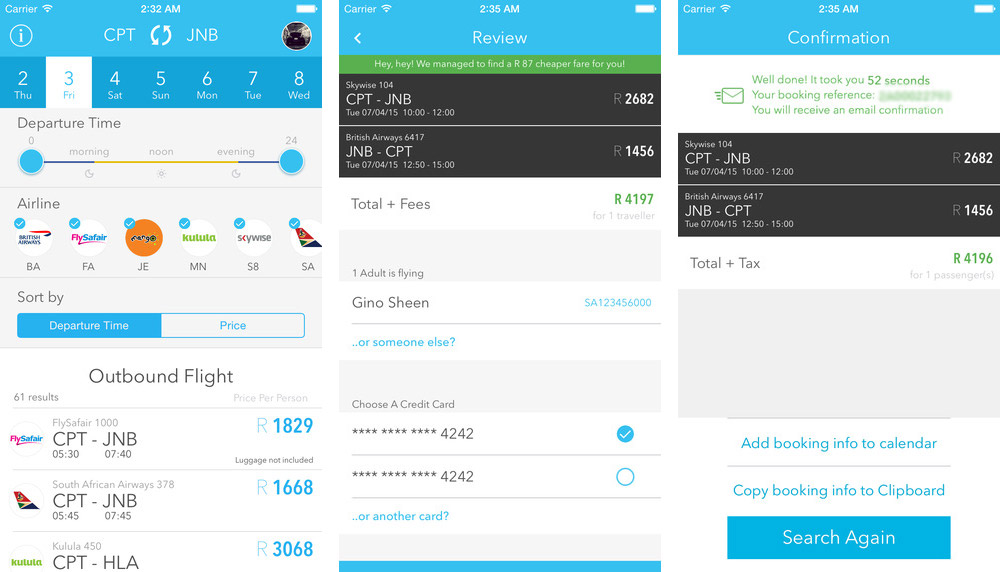 ---
Share the news