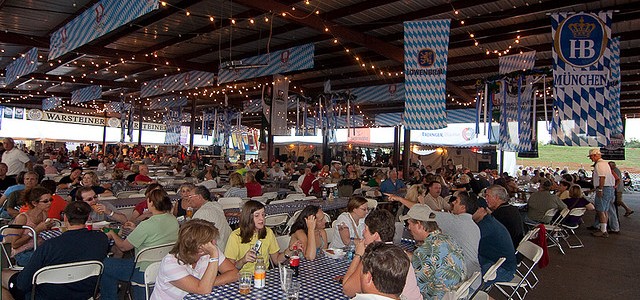 Some are calling it "the best time ever". Others have said "they learned beer drinking skills that would make Homer Simpson blush". All we know is it's called Oktoberfest and it's all happening this month in Germany.
Without sounding too much like Top Gear's Jeremy Clarkson, get ready to don your Lederhosen and Dirndl and head to Munich for the world's largest beer festival. It's time to celebrate all things German, and if that means downing a Stein and eating a pretzel at the same time then you better make sure you're well prepared. To help you on operation Oktoberfest 2011 I've picked out some of my favourite German restaurants and pubs in South Africa. With a little luck and a strong stomach you'll be in perfect shape by the time the Oktoberfest 2011 festivities arrive on the 17th September 2011.
Cape Town – Paulaner Bräuhaus
Cape Town's Paulaner Bräuhaus provides the perfect opportunity for you to get in the right mindset for Oktoberfest 2011. By actually serving you the very same beer and traditional fare that you'll be consuming in Munich, you'll leave feeling a whole lot more confident in your Weiss bier guzzling, sauerkraut gobbling abilities.
The Paulaner Bräuhaus in Cape Town is situated on the V&A Waterfront opposite the Clock Tower. Call them now on 021 418 9999
Durban – Black Forest Tavern
Named after Germany's wooded mountain range, the Black Forest Tavern in Durban's western suburbs has been serving up traditional German fare for over 30 years. It's owned by the Klische Family who know the meaning of true German hospitality. There's even an upmarket B&B attached to the restaurant and pub where you can sleep off classic German dishes like Schnecken a la Schwarzwaldstube.
Call them now: 031 702 2908
Johannesburg – Schwabinger Stuben
The Schwabinger Stuben brings traditional German fare to the sprawling city of Johannesburg in inimitable style. This long standing German restaurant in Johannesburg is situated on Main Rd in Ferndale and they're well known for their hearty German food. Enjoy goulash soup, sauerbraten, dumplings, eisbein, spätzle or pork neck roast. For sweets treat yourself to some apfelstrudel or Black Forest cake.
Call them on 011 787 2550
A Short Guide to Oktoberfest Phrases
We hope these come in useful:
"Ein Bier, bitte." – "One Beer, please."
"Eins, zwei, gesoffen!" – "One, two, drink!"
"Prost!" – "Cheers!"
"Danke schön" – "Thanks"
Oktoberfest in Numbers
Below are some stats from Oktoberfest 2010:
Beer – over 7 million litres consumed
Attendance – 6.4 million people
Wine – over 89 000 litres consumed
Pork Knuckles – over 69 000 units sold
Pork Sausages – Over 119 000 pairs sold
Lost Property – About 4000 items including 260 pairs of glasses and 200 mobile phones
One of our Travelstart Global Citizens went to Oktoberfest in 2008 and she doesn't even drink beer.
Lufthansa Cheap Flights this Month
We have cheap flights on Lufthansa to Europe valid for travel between 1 February and 31 March 2012 – browse these special fares here.
If you're looking for flights to Munich for Oktoberfest 2011 then browse here.
Win Rimowa Luggage to the Value of R4500
You could be styling your way to Oktoberfest 2011 if you book flights to Munich with Travelstart and Lufthansa this September. Book Lufthansa flights on Travelstart now and stand a chance of winning this top of the range luggage. Specs:
Silver Rimowa luggage valued at R4500 (EUR449.00)
Includes 1 airtight onboard trolley cases and a notebook case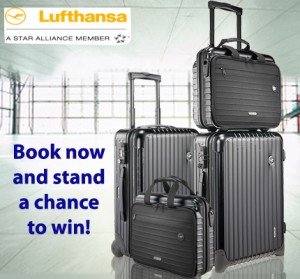 This promotion is exclusive to Travelstart and you have to book with Lufthansa and Travelstart in September 2011 to be eligible for the prize. Click the image above for important details.
Oktoberfest Image Credits: hmorandell – Marcus Kesler – naden